MOBIO booth No. : North facility 2nd floor 145
FUKUCHI METAL CO., LTD.
Product line
Automobile parts
Cold forged parts
Metal press work
Description of business
Fukuchi Metal has a solid history of producing numerous products with cold forging, primarily as intermediate products for automotive components. Innovation and further improvement are a permanent part of the program at Fukuchi Metal to bring their customers better products and exciting proposals.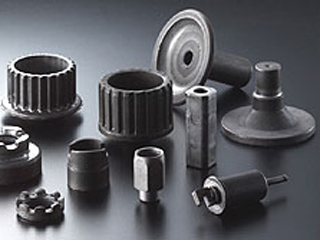 Products and Technologies
Cold Forging and Metal Press Work
Creating Products to Desired Shapes with Cold Forging Technology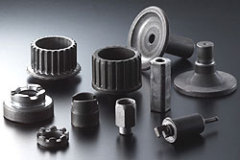 Fukuchi Metal takes great pleasure in creating products from the ideas of their customers, using cold forging and press technologies Fukuchi Metal has developed over their years of experience in the industry.
They welcome inquiries about your manufacturing needs.

A great improvement over cutting which results in scraps, cold forging is a process for forming products in a mold with pressure, not only saving material but avoiding cutting of the metal fibers, which results in a stronger product.

Cold forging molds are sometimes criticized as having extremely high development costs that are not justified except with mass production.
In addition to planning their manufacturing processes themselves, Fukuchi Metal designs and produces their molds in-house, based on a wealth of experience and data for various shapes.
With their reserve molds for samples and various rough stock materials, they are confident they can meet your budget and deadline even for small-lot orders.
Plans that Start with Design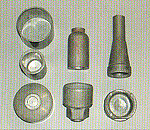 Fukuchi consults with customers on product manufacturing, based on their expertise in cold forging that they have accumulated through decades in the industry.
Superior Production ControlData is maintained for production processes in 10-minute and one-hour units.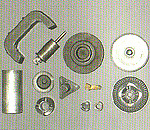 Quick Response Based on Extensive Design RecordsFukuchi Metal uses a computer management system to maintain records of past projects.
They are therefore able to quickly identify potential pitfalls and design a more sophisticated production process.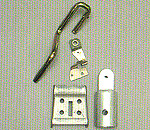 Cold ForgingCompared to cutting which is not possible with mass production, cold forging is a fast and inexpensive method for mass producing the desired form.
The material is placed in the mold and then pressured by a weight of several hundred tons. Because the iron fibers are not cut, the final product is much stronger.Trial ProductionWith their ample experience and numerous products they have created in a wide range of forms, Fukuchi Metal can quickly develop a trial production plan that best suits your needs for a high quality product.
Corporate Profile
Corporate name

FUKUCHI METAL CO., LTD.

Address

3-6-21 Kamikita, Hirano-ku, Osaka City, Osaka, 547-0001, Japan

President

Mamoru Fukuchi

Founded / Established

1961 / 1967

Phone

+81-6-6791-7176

Fax

+81-6-6794-4906

Company URL

Capital

10,000,000 yen