MOBIO booth No. : North facility 2nd floor 165
MENDEL CORPORATION
Product line
Outsourcing
Temporary staffing
Description of business
Mendel is a company with a history of success in the industry, established in 1978 to provide a clear vision for the outsourcing industry when it was in its infancy. Given the low growth rate in recent years, businesses must have an adaptable structure and be quick to implement new business opportunities. Changes in the economy also require higher administrative efficiency which includes employment flexibility. Always ready to meet the needs of the times, Mendel has the experienced personnel with accredited training to increase efficiency in your business.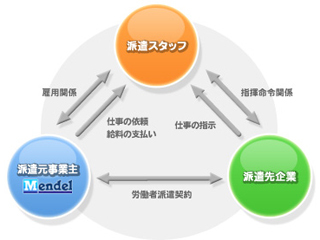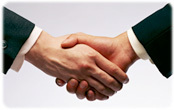 Products and Technologies
Outsourcing and Temporary Staffing
Comprehensive Services from Project Management to Implementation
Outsourcing your projects to Mendel provides flexibility for your organization, or Mendel can provide on-site staff to enable you to administer your management resources more efficiently in your core areas. Let Mendel assemble an efficient project team to help you meet your business goals.

1. Mendel provides training in advance of assignments to ensure tasks are carried out properly without incident.
2. Mendel personnel receive thorough training in standard business practices. The 5S philosophy is used to ensure each employee provides efficient, thorough services.
3. During assignments, a Mendel worksite manager maintains communication with workers for reinforcement.
4. They also implement pro-active steps, innovating to improve safety in the workplace.
5. Mendel employs a labor management system and safety management based on labor laws.

Temporary Staffing
The diversification in today's market has accelerated the liquidity of the employer-employee relationship.
At a time of low economic growth without lifetime employment, temporary staffing provides a new mode of employment.

[Characteristics of Labor Outsourcing]

●A company can regulated its work force according to how it requires specific skills.
●A three-way relationship is formed between the outsourcer, the company using the labor and the workers.
●The outsourced workers are assigned to fixed tasks.
●Workers register their specific skills with an outsourcer.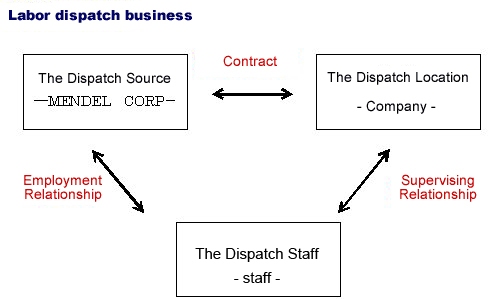 Outsourcing
Outsourcing as a Form of Subcontracting

An outsourcer can handle any level of labor including the planning of tasks and management of operations.
By using an outsourcer, a company can increase the efficiency of jobs it handles in-house as well as venturing into new areas of business where the company lacks expertise.

[Examples of Labor Skills Mendel Outsources]

●Production control, logistics
●Document preparation, correspondence, receiving
●Computer applications, education and training
●Specialty vocations such as electrical, equipment, energy, environmental protection, high-pressure gas, refrigeration and establishing ISO certification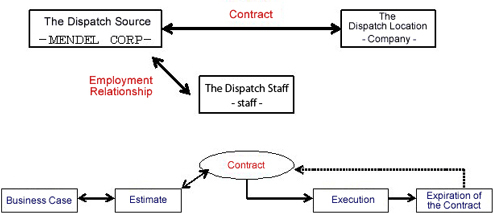 Corporate Profile
Corporate name

MENDEL CORPORATION

Address

Nanpei Building 4th Floor, 1-4-16 Utsubohonmachi, Nishi-ku, Osaka City, Osaka, 550-0004, Japan

President

Yasuhiro Yamazaki

Founded / Established

1978 / 1991

Phone

+81-6-6449-5566

Fax

+81-6-6449-5543

Company URL

Capital

10,000,000 yen