MOBIO booth No. : North facility 2nd floor 138
Kamano Iron Works
Product line
Knurling Tool Holders
Lathe Manufacturing
Inner ard outer knurling
Description of business
Since being founded in 1960, Kamano Iron Works has provided lathe and milling services for manufacturers of lathe chucks, grinders and reduction gears, among others.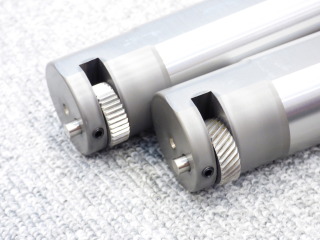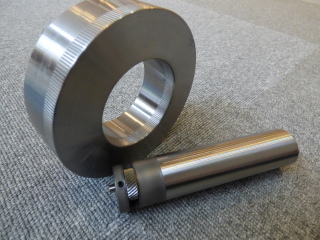 Products and Technologies
Inner and Outer Dual-Use Knurling Tool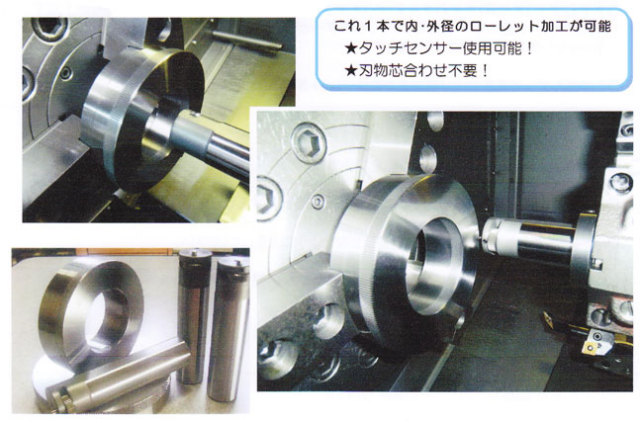 Kamano Iron Works' knurling holder allows knurling on both the inside and the outside of workpieces.
Tactile sensors measure the blade position in the same way as conventional inner and outer knurling tool holders.

A special feature of the dual-use knurling tool holder is that after attaching the cutting edge to the inner holder mount of the numerical control lathe, no adjustment is needed to the height of the cutting blade regardless of the lathe model. Additionally, the Kamano Iron Works' holder can handle knurling up to within 50 mm of the end face.

The knurling tool is equipped with a medium-sized straight knurling wheel also capable of producing cross-hatched knurls.
For cross-hatching, the blades are set in the left and a right wheel, angled in one direction for a first knurling pass. The blade angle is then changed and knurling repeated to form the cross-hatched pattern. Using two holders, both left and right blades can be attached for cross-hatching in one pass. Additionally, some manufacturers supply single knurling wheels designed for cross-hatched knurling.
Lathe Finishing After Carburization or Induction Hardening
We provide lathe finishing for carburized and induction hardened materials using tips made of cubic boron nitride or CBN.
These extremely hard tips are useful on such time-consuming items as tapered edges and end faces, greatly decreasing grinding time.
We also provide CBN tip lathing services after quenching is complete for flaring on the inner and outer sides of materials, the outer edge of gears after cutting and the inner edge of splines.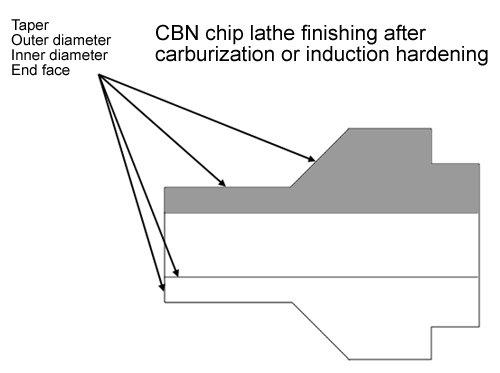 Corporate Profile
Corporate name

Kamano Iron Works

Address

4-19 Node-cho, Izumisano City, Osaka, 598-0041, Japan

President

Yoshikazu Kamano

Established

1960

Phone

+81-72-462-2577

Fax

+81-72-462-2577

Company URL