MOBIO booth No. : North facility 1st floor 63
USUTANI DENSHI CO., LTD.
Product line
Ultra-miniature welder UHP-1001
Spot welder UHP-2003
Tweezer-type electrode head
Description of business
Usutani Denshi's ultra-miniature spot welders are used by various companies, universities and research institutions, as well as by local watchmakers and factories as personal spot welders that make full use of the ultra-miniature and lightweight characteristics of electrostatic energy storage. A feature of this product is that it achieves a high degree of reliability when spot welding by electronizing all control circuits using the function specific to the welding of "thin plates and wires." Because the electric pulse is extremely short, there is little scorching of components and hardly any deformation due to the welding. Thus, it is suited to the welding of small components, and is ideal for welding minute, detailed metals, as well as metals that cannot be soldered, plus thermo couples and heater wires that are used at high temperatures.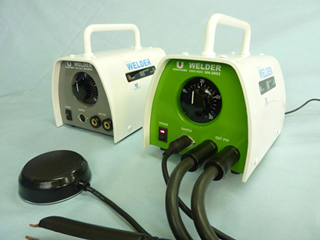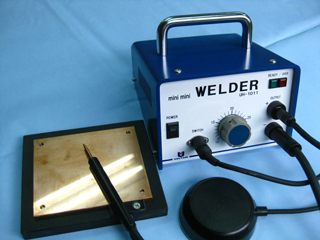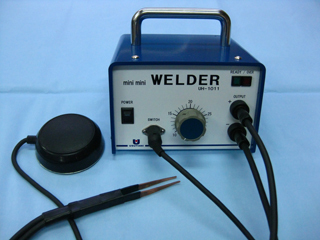 Products and Technologies
Specializing in fine wires and thin plates!
Ultra-miniature spot welder 'Mini-Mini Welder'
Better performance, higher speed All-digital control circuits.
Continuous/variable spot welding with high reliability and excellent performance.

Hardly any burnout and deformation of materials
Due to very short conducting pulses,
heat damage is small, and a beautiful finish can be obtained.

Operation requires no special skills
Welding does not use any indirect materials, hence eco-greenness.
All the parts used are RoHS compliant to guarantee environmental friendliness.
Safe operation at very low driving voltage without concern of electric shock.

☆UH Series welders are employed in a variety of manufacturing sites
where miniature metal parts have to be machined precisely, including enterprises,
medical facilities, universities and other leading-edge R&D facilities.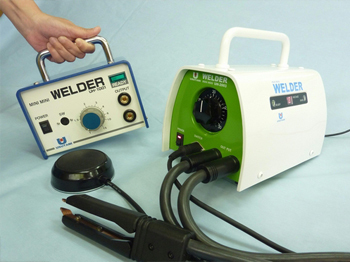 Specializing in fine wires and thin plates! Ultra-miniature spot welder 'Mini-Mini Welder'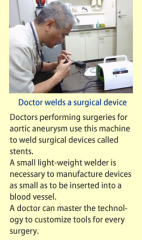 The small and light-weight handy spot welder, targeted for welding of thin plates and fine wires, meets a wide range of needs, from R&D labs of enterprises and universities to fine metal-processing facilities.

•Spot welding of various thermo couples
•Spot welding of various lamps (halogen lamps, sealed beams, etc.)
•Spot welding of lead wire terminals (copper), copper stranded conductors, plug terminals
•Spot welding of contact springs and other springs
•Spot welding of relay contacts, semiconductor connections, etc.
•Spot welding of fuses, resistors, coils, capacitors, switches, etc.
•Spot welding of stainless steel wire meshes, metal foil, wire mesh filters, etc.
•Spot welding of spectacle frames, clock parts, camera parts, metal tableware, etc.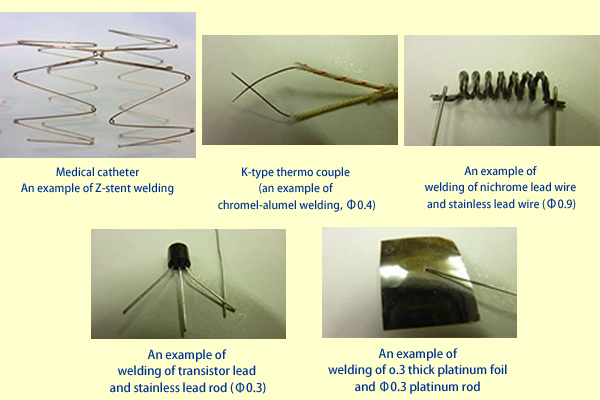 Examples of custom-made electrodes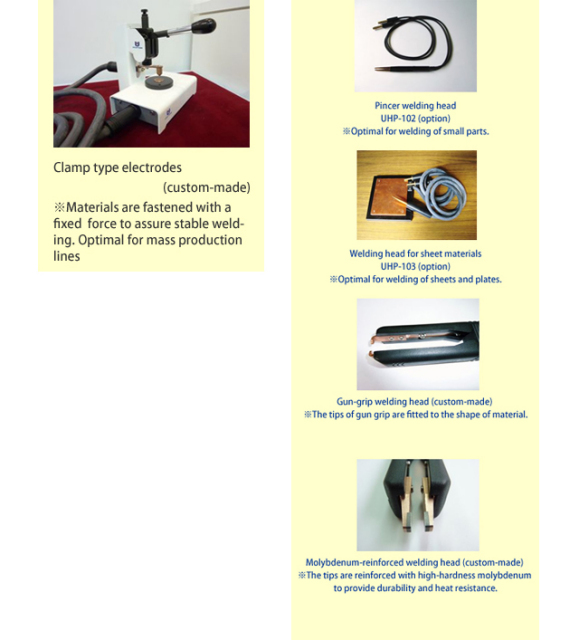 Corporate Profile
Corporate name

USUTANI DENSHI CO., LTD.

Person in charge

Sales Manager

Koicti Usutani

E-mail

Address

7-28, Shoji-cho, Kadoma City, Osaka, 571-0058, Japan

President

Koichi Usutani

Founded

1958

Phone

+81-6-6903-0500

Fax

+81-6-6903-5200

Company URL

English (http://www.usutani.co.jp)

Capital

10,000,000 yen

Major account

Metalworking manufacturers, electrical component manufacturers, chemical materials manufacturers, watchmakers, universities and other research institutions

Overseas facility

-