MOBIO booth No. : North facility 1st floor 25
PRD CO., LTD.
Product line
Deodorization, Mildew-proofing & Antibacterial products
Dyes and pigments, additives and modifiers for synthetic resins
Colored pellets
Description of business
PRD Co., Ltd. operates in two divisions to provide:
●Mildew-proofing & Antibacterial Div.: Products ranging from mildew-proofing, deodorization, antibacterial properties by use of new technology to knead pellets containing micro-capsules impregnated an active ingredient of wasabi into a resin.
●Synthetic resin Div.: A color master batch manufacturing and coloring processes to adequately respond to users' needs. Color management, toning and other processes by the use of CCM (Computer Color Matching) system.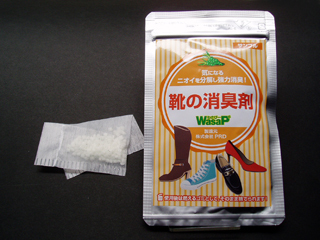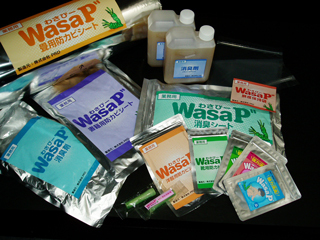 Products and Technologies
Make your daily life richer and more pleasant with the power of wasabi
Add value to your product !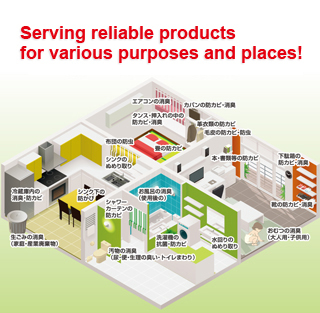 Features
- Release of Allyimustard oil (AITC) into the air when humidity is 65% or higher
- And take effect a long time
- Adaptable in OEM
- All japan production
- After use they can be disposed of as general waste

Effect
- Deodorization / Mildew-proofing / Antibacterial properties / Protection from insects
All products can be customized to meet your individual needs, including size, strength of the effect, other specifications!!
The excellent effects of wasabi (AITC)
*Deodorization : AITC reacts to the odorous components and changes to an odorless component. It is particularly effective against ammonia odor and foul odor.
*Mildew-proofing : AITC that has been released into the air controls the mildew growing, and cleans up invisible spores.
*Antibacterial properties : AITC controls harmful bacteria that cause food poisoning, such as coliform bacteria, Salmonella, and Vibrio parahaemolyticus, and has excellent effects for hygiene control.
*Protection from insects : The volatile stimulation of AITC interferes with insects' breathing and is effective in protection from insects.
*Wasabi is also used in processed foods as a food additive, and therefore its safety is ensured
*Wasabi has no effect on the human body, and is known well as reliable and safe material in versatility

PRD is developing and marketing the highly functional product that is easy to handle as well.

Using most advanced technologies, we create plastic component of any color you wish!
Rapid product development through integrated manufacturing and marketing system
●Development and manufacturing of colorants for specific purposes!
They use CCM system to develop peculiar master batches. Moreover, they can offer resin compounds blended with additives so as to provide functions required for final products.

●Shortening of development lead time!
New functions and new colors are an indispensable condition for plastics enjoying rapidly expanding use in the markets of industrial components and daily commodities. Due to their integrated manufacturing and sales system unique in the industry, they have established close information exchange for rapid development.

Corporate Profile
Corporate name

PRD CO., LTD.

Address

#2110 Creation-Core South Bldg. 1-4-1 Aramoto-Kita, Higashi-Osaka City, Osaka, 577-0011, Japan

President

Haruyuki Kinoshita

Founded / Established

1978 / 1980

Phone

+81-6-6745-4300

Fax

+81-6-6745-4311

Company URL

Japanese (http://www.yamaki-japan.com/wasap.html)

Capital

8,000,000 yen