MOBIO booth No. : North facility 2nd floor 74
SOLID TOOL CO., LTD.
Product line
Cemented carbide cutting tools
Cutting tools with brazed blades made of cemented carbide
Abrasive resistant bearers, punches, general jigs and tools
Description of business
SOLID TOOL CO., LTD. has all the solutions for your carbide cutting tool needs! It has an ultra-quick delivery time in Japan, and can respond, consult, and deliver the product in a short two days.
It is a carbide tool professional manufacturer that can produce high-precision cutting tools in small lots starting with one piece, as well as provide proposals for high-efficiency cutting tools to finish precise and complex holes at one time.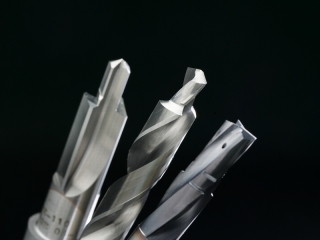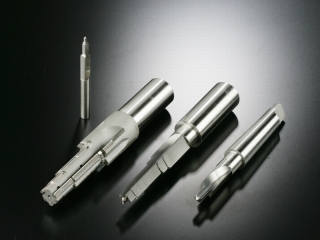 Products and Technologies
Professional manufacturer of custom-made carbide tools
Are you satisfied with current quality?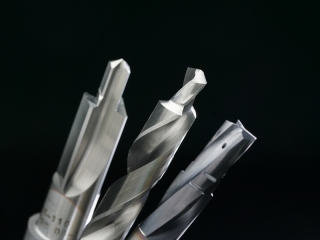 Reasons that Solid Tool is selected as a tool supplier!
1) Capability to respond to small lot orders for even just one cutting tool
2) Quick delivery time of two short days
3) Proposals for cutting processing costs
4) Perfect reburnishing after order delivered
Solid Tool proposes solutions to solve these problems with cutting tools!
・Need to shorten delivery time (quick delivery time)
・Want to use long-lasting tools (long-lasting with maximized lifespan)
・Need to reduce costs (cost reductions)
・Want to improve maintainability (maintainability)
・Need to improve performance (performance improvement)
Burr-free burnishing drill bit
Burr-free even when drilling pipes!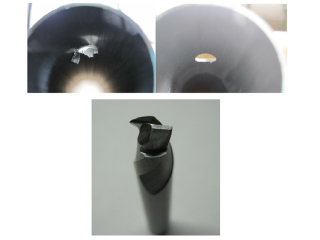 ●Problems
Burrs are likely to occur during the process of pipe drilling with conventional drills. It takes a great deal of time and effort to handle inner burrs. Burrs may be difficult to remove depending on the treatment method used, and the commercial value of a product may decrease if flaws are found.

●The secret: the shape of the tip of the end mill blade
In order to solve these problems, Solid Tool has taken advantage of the features of end mills to develop the Burr-free Burnishing Drill Bit that can be used like a drill!

This drill (end mill) can inhibit burr creation because it has the strength to withstand general-purpose bowl board processing and the tip is in the shape of an end mill blade. Solid Tool has a good track record in pipe processing using SUS, aluminum, and FRP materials from φ2.5.
Composite R End Mills
Cut overlapping, complex R shapes in a short period of time!
●Normal process
Usually, the cutting process involves following flow depending on the R-tolerance request. tailored to the shape of the finished workpiece
rough processing => semi-finishing => finish machining

●Reduction of operation time
For complex R end mills, cutting tools are molded and manufactured in accordance with the finished workpiece shape. The R-shape can be secured in just one work process and rough and finishing machining can be completed in two steps.
This means that it is possible to reduce both operating times from work process programs and cutting and machining and also contributes to cost reductions, such as labor and utility costs with significant reductions in machining time.

Corporate Profile
Corporate name

SOLID TOOL CO., LTD.

Address

5-1-12 Kamio-cho, Yao City, Osaka, 581-0851, Japan

President

Hideo Tanaka

Established

1972

Company URL

Capital

10,000,000 yen