OMINE CHEMISTRY CO., LTD.
OMINE CHEMISTRY CO., LTD.
Product line
Plastic thumb bolts
Plastic parts
Plastic injection molds
Description of business
Omine Chemistry has a unique insertion technology to manufacture the plastic bolts that are safe, easy to use, and have a beautiful appearance. By creating products that match customers' application beginning at the research and development stage, the fields of their utilization will continue to expand to agricultural device, medical equipment, and industrial equipment. They are the company that achieves both functionality and decorative appearance.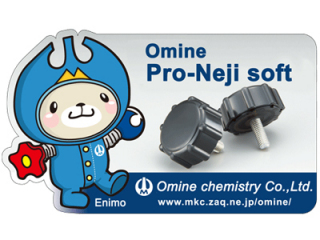 Corporate Profile
Corporate name

OMINE CHEMISTRY CO., LTD.

Address

3-29-1, Kishiwada, Kadoma City, Osaka, 571-0002, Japan

President

Yasuhiro Onishi

Founded / Established

1960 / 1971

Phone

+81-72-882-5249

Fax

+81-72-882-6244

Company URL

Japanese (http://www.mkc.zaq.ne.jp/omine/)

Capital

10,000,000 yen