Saturday Oct. 27 was the seminar day at the permanent exhibition hall.
Members learned KISS principle, PREP principle and Japanese "Ko.Ko.De.Mo.A.Kan" principle.
The presenter explained ways to focus 5W1H in detail. With a guidance of the lecturer all members
presented their copies without any shy.
Refered to the panel created by the last year's seminar member.
The name card of Mr.Shy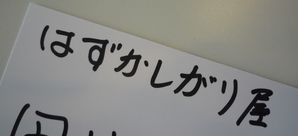 ———————————————————————————————–
Next seminar is scheduled on Nov. 6,  No.3 seminar.
Main focus this time is " How to create attractive flyer's and panels for the fair ".
Register from here http://www.m-osaka.com/jp/mobio-cafe/detail.php?id=718