特別企画展「3つの発明展」は1月開催。 January special exhibit  is "Exhibition of Three Inventions"
お出迎えはこちら。 Guest will be welcomed by them.
*宇宙技術(発明)から生まれた企業商品展    *Products from space technology
*大阪から生まれた企業発明展    *Products created in Osaka
*女性のアイデアから生まれたヒット商品展    *Prevailing products created by women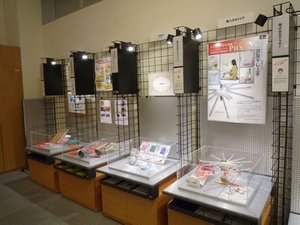 よく目にする商品があります。 See popular products.
日 時: 平成25年1月4日(金曜日)~2月8日(金曜日)
Schedule: Jan. 4 through Feb. 8
詳しくはこちらから。  Read more in Japanese here.
皆様のお越しをお待ちしています。  Visit MOBIO to find INVENTION.