Product explanation by using the display models is interesting and informative at MOBIO
CAFE MEETING. The three exhibitors made presentations in front of their booths.
1) High functional and high added valued nanoparticles — ITEC CO.,LTD.  (View more)
The supercritical fluid technology is one of new manufacturing process. The core business of ITEC is to manufacture Nanoparticle production System by using its new process. From ITEC two of them explained two business categories.
●Wanted collaboration partner to use nano particle!
-Asking for printing ink manufacturesr or printing companies: Silver Nanoparticles.
Since low-temperature sintering at 100 ℃ or less is possible, it is able to be used for inkjet printing or screen-stencil for advancement and integration of electronic circuits.
-Asking for injection manufacturers: Organically modified seria nanoparticles, BN particles.
They are easily mixed into various fillers in high content. The fillers are used for high thermal conductive material such as cellular phone body, fulurorecent lamp base, LED lamp base.
●Drysnow Cleaning Device
Asking for inline cleaning station for semiconductors and other precision components.
Particles, barricades, oil and fat contents are removed without damaging a work to be cleaned because it sprays soft powder shaped out from liquid CO2. Rinse water is unnecessary, neither drying system nor water treatment system is required.
2)  Plastic cushioning foam —   JOUNAN CO.,LTD. (View more)
Jounan process plastic foam and provide any customers with "cushioning foam to transport valuable items" .
●Right products in the right place
Selecting optimal materials for every application, hard materials for heavy stuff or soft materials for light items, they apply appropriate processing based on their rich technology and expertise. At presentation they demonstrated drop-ball test to easily show elasticity differencies between materials.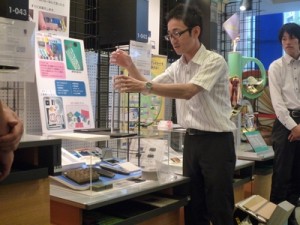 ●Quick response for versatile application!
Cushioning matereials are used at varoious places. Jounan provides with product packaging, transportation container foam for precision components, pall corner guard at construction site, stationary package and etc. Their V cut and half cut technology makes them quicker to quote and to make prototypes to any request by variety customers.
3) Cost saving metal press molds —   KONISHI METAL MOLD ENGINEERING, LTD. (View more)

Their presentation started with "At hot summer passion is here" and ended "Japanese technology is again highly appreciated by offshore corporations. Let's heads up!"
●Exclusive press mold, certified by "The Nippon Monodzukuri Award"
Konishi's mold technology made it possibvle to drastically reduce production process; six to one at steel furniture top board, six to four at stove bottom plate. Thier MOBIO exhibition is effective since they have already received inquiries.
Next step is to develop the mold for new material, CFRP. Konishi is improving mold not only for metals but all other materials.
●Reason of "Bell" display
Based on reevaluation of  Japanese high quality by global customers, operation for automobile related industry is quite busy. Konish is taking further action to expand business by applying their patented technology of "Sphericity"
and to create new structure of automobile bumber. Its seeds technology is shown by  the "Bell".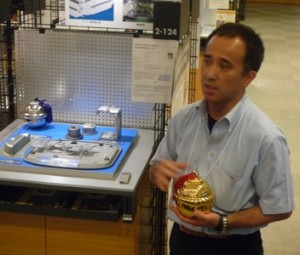 *****************
Next MOBIO-Café Meeting is scheduled on Aug. 9, starting at 15:00.
Most of the presentors will be by the participants to " Kadoma Municipality 50thy Anniversary Exihibition".
Apply registration from here. And be sure to mark your calendar to participate fun gathering.
Note: " Kadoma Municipality 50th Anniversary Exihibition" will start Aug. 1st and end Aug. 29th.
              Please drop by MOBIO to review its exhibit.