Watch, listen and ask! Participants exchanged ideas positively. Product explanation by using the display models is interesting and informative at CAFE MEETING.
New technology, convenient product and countermeasure were presented to audiences on and on. Discussion continued at cafe site following to the presentation in the MOBIO hall.
******
1) Heavyduty Dollies - IZUMO CO., LTD. (Read more)
Izumo provides with variety products from industrial rubber, resin to metal parts.  Consolidating their expertise, "Izumo Tank"  has been developed. Placing four unit of them at the bottom of heavy item will assist equipment relocation to any direction. Utilizing characteristics of polyurethane rubber , Izumo tank is capable to transfer industrial equipments and machinery up to 20 tons.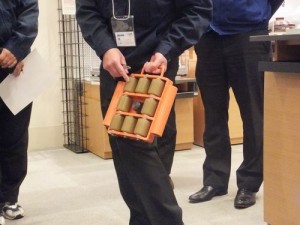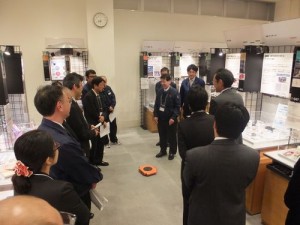 2) Injection improvement - MAEGAWA MOLD CO.,LTD.  Electric Division (Read more)
Utilizing experience in mold technology for plastic injection and accumulated technological expertise in relation to temperature control technologies, heaters, and thermo-couples, MAEGAWA has developed their temperature controllers. Their devices highly-precisely measure and control temperature of hot runners, molds,  insert die and other key sections; resulting in high quality injection. Effective to drastically reduce a failures such as a variation in temperature and a resin burning. Moreover they are possible to be serviced by users.
3) System control - SOUKI SYSTEMS CO., LTD. (Read more)
SOUKI's core technology is miniature robots system incorporating computer control technology. Consolidating several sensors they create control system for the miniature model aircraft, automatic production line and surveyllant networking. And watch the display  rocket decorated for holiday season.
Another focus is to assist system engineer talent training, that will be presented to entrepreneurs January 16 at MOBIO Cafe Meeting.
*** at Cafe site
Following to the business card exchange and discussion over drinks, the closing remarks was delivered by SHOWA DENKI CO., LTD. (read more) asking to meet again at the next cafe meeting.
*****
The next MOBIO-Cafe Meeting is scheduled on December 3, starting 1800.
The presenters:
MATSUDA CO.,LTD (read more) — Cold-headed parts
RIKEN KEIKI NARA Mfg.CO.,LTD. (read more) — Automatic Press Monitoring Device
 CY-Creative Co.,LTD. — Decorative metal sculpture
Send application in Japanese from here