Exhibitors at the April-May special exhibition of the e-Net Cross-Industry group explained their products at April 23 Cafe Meeting.
●Activity report – e Net Group
The e- Net group is trying to establish the new distribution channel bypassing middlemen. Six companies explained their product feature.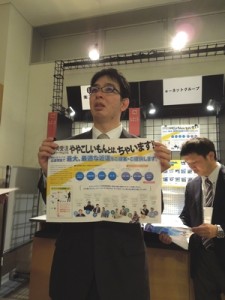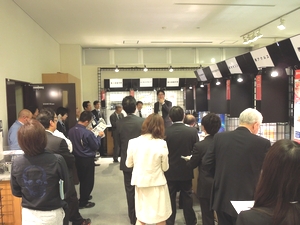 Participants were listening
●Physiotherapy –  OSHIMA MEDICAL INDUSTRIES Co., Ltd.
Oshima manufactures various equipment for physiotherapy to be used at medical institutions or nursing homes. Their goal is to  build a hospitable physiotherapy stimulating an acupuncture point or a muscle for healing. Displaying a bed-type massager providing rolling, massaging and vibrating, and a low frequency electric therapy equipment.
● Kneading technology – YAMAMORI CORPORATION
By kneading pigment and functionality materials into silicone rubber Yamamori develops and manufactures the suitable product to fit to customer's need. Their product offers varies functions from antimicrobial, deodorization and disinfestation by use of micro capsules. Additionally they produce cosmetic product using moisture-retaining function of the skin, called "An angel's heal" or "Foot sole beauty".
●Oxidation ability - ACURUSU CORPORATION
One of their business category is to develop the branded product applying oxidation function. O3 discharged by the Ozoniser is effective for deodorization and disinfestation with a blanket smell by hanging it outside in the sun. Acurusu develops application of non-woven fabrics with deodorization for medical market.
●Machining tools – OONISHI CO., LTD.
Under a brand name TOOL ONE, Oonishi develops suitable tools for rough machining. And their tooling is available through an online sale system, called MONO PRO.
●Laser machining – IMAICHI FABRICATION
"ICHI! both for a name and processing" is a corporate catch phrase (Ichi means No.1 in Japanese). They are trying to shape customer's wish by laser processing machines and develop products for B2B and B2C market.
●Machined Prototype – INOUE MOKEI CO., LTD.
Inoue integrates a 5-axis control machine with a 3D printer and makes it possible to machine a complicated fabrication and a curved or a spherical surface of aluminum. Other than their main business – automobiles, they develop a children's artificial heart model in a medical market, an implant jig in a dental market, a thinner wall parts for a communication devices in a plane and etc.
–
The next MOBIO Cafe Meeting is by three exhibitors.
Send your registration in Japanese from here.
Schedule: May 15 from 18:00 at the MOBIO technology hall