MOBIO booth No. : North facility 2nd floor 117
ALMINE CO., LTD.
Product line
Aluminum and aluminum alloy wires, rods, sheets and strips
Aluminum wire for heading, thermal spraying and vapor deposition
Aluminum electrode wire, welding rods, alloys for machining and forging
Description of business
ALMINE has established a direct sales system that is said to be the only manufacturer of aluminum materials in Japan to sell directly to users.
It also manufactures high-quality aluminum wires, rods, sheets and strips through integrated production from ingots using its unique manufacturing method, and can provide a wide variety of materials, from general-purpose materials to special materials.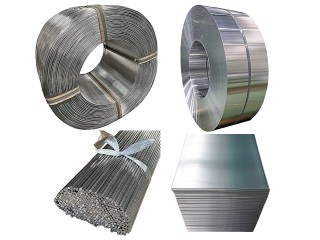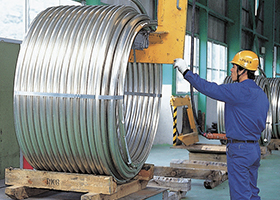 Products and Technologies
Providing stable processing and reduction of defect rate for customers
Ultrafine grain refinement of aluminum alloys by the unique continuous casting rolling method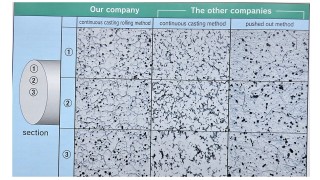 ●Unique continuous casting and rolling method has succeeded in ultrafine grain refinement of the metal structure!

Uniformity inside the metallographic structure and no segregation are realized compared to other companies' materials. No stress cracking or stress distortion, resulting in excellent machinability and forgeability. It provides customers with stable machining and reduced defect rate.

ALMINE can meet a wide variety of needs such as product shape and alloy component with short delivery times.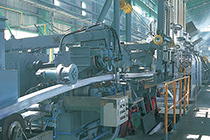 ●Customer-First Manufacturing System

*ALMINE can manufacture a wide range of materials, from pure aluminum to various aluminum alloys, as well as alloys developed by itself. An integrated production process from melting of ingots to packaging allows ALMINE to handle small lot production.
*Its unique continuous casting and rolling method emits less CO2,and is SDGs compliant.
*ALMINE is capable to develop better materials because of its customers first policy.
Providing aluminum of customer's choice through user-direct sales system!
Production of aluminum wires, bars, sheets and strips to meet customer's needs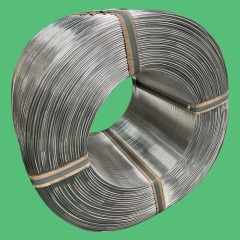 ●Integrated production system

Based on integrated manufacturing system, ALMINE produces high quality aluminum wire, bar, sheet and strip.

It is said to be the only material manufacturer to have established a direct sales system to users.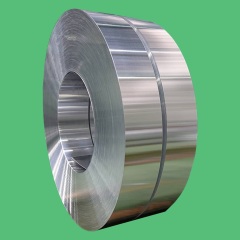 ●Multiple types of products to meet various needs, manufacturing system with multiple plants

*ALMINE is capable of manufacturing all kinds of materials from 1000 series to 7000 series of aluminum.

*Both factories in Japan and Vietnam are ISO 9001 and 14001 certified, and have a total monthly production capacity of 13,000 tons. Stable supply
Creating World-Class Products
Better products start with strict quality inspection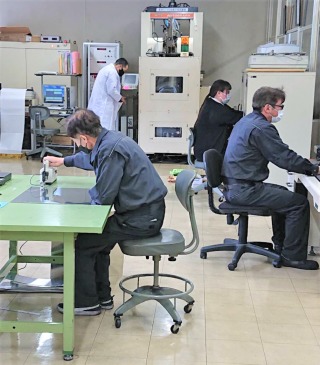 ●Quality first, and development of new materials

*ALMINE products are used in important automotive safety parts (brakes, etc.) and have shown its high level of quality. The materials that have passed strict quality control at the manufacturing site and in the inspection room are used in its products.
This is because ALMINE has a system in place to ship only products meeting internal standards.

*ALMINE values the voices of customers through direct sales and will continue to develop new aluminum materials for use in EVs and new forms of mobility.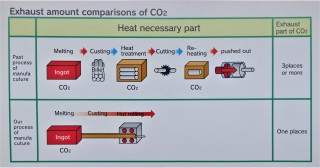 ●Environmentally Friendly Manufacturing Methods

*Since its founding, ALMINE has continued to develop its manufacturing processes with an eye toward the future of the global environment.

*As a result, it has reduced the amount of heat used in the manufacturing process to 1/3 and achieved less than 1/3 of CO2 emissions.
Corporate Profile
Corporate name

ALMINE CO., LTD.

Address

2-3-24, Awaza, Nishi-ku, Osaka-shi, Osaka, 550-0011, Japan

President

Takeshi Takeuchi

Founded / Established

1921 / 1960

Phone

+81-6-6543-1700

Fax

+81-6-6543-1771

Company URL

Capital

490,000,000 yen

Awards received

ISO 9001