YASUNARI BANKIN CO., LTD.
MOBIO booth No. : North facility 2nd floor 122
YASUNARI BANKIN CO., LTD.
Product line
Design, manufacture, and sale of safety guard covers for various machines
Covers for supply/exhaust fans, control panels, etc., new-type impellers
Prototype steel-sheet processing, welding
Description of business
YASUNARI BANKIN is said to be the Japan's only sheet-metal processing company fully specialized in safety guard cover.

It manufactures safety guard panels for various machines from the customer's perspective, based on the company guidelines of "Thin, lightweight, and simple to mount," using over 70 years of experience combined with unique processing technology.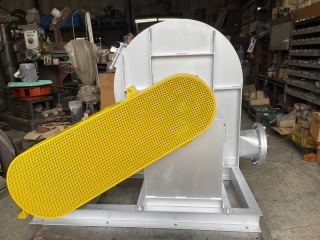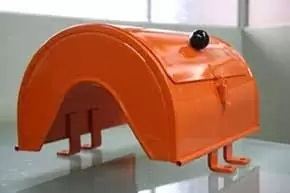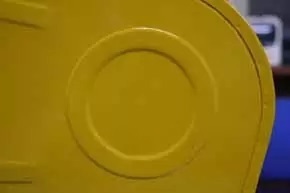 Products and Technologies
A challenge to improve safety and reduce weight
Long-standing expertise in every aspect of safety guard covers
●Three reasons to select YASUNARI

1 Fast delivery of factory shipments – Normal delivery term is about 7 days. Next-day delivery may prove possible depending on the product's structure and manufacturing method!
2 Suggestion capability – Help customers reduce total costs with the most suitable processing method.
3 Expertise – Developed original processing methods based on its long manufacturing experience. Providing value-added improvement.
●New-type (thin-type) impellers will change the ...!

・Substantial reduction of welding spots due to heavy use of thin sheets and bending operations – solving the problem of welding distortion.
・ Even though an impeller is so narrow that welding rods cannot penetrate inside, thin production with a minimum width of 7 mm has been realized.
・Weight saving about 30% and quality improvement as compared to conventional impellers – reducing the motor's rotating load.
Production equipment and unique processing technology to support craftsmanship
Provide safety, security, and the highest quality
●Leading-edge equipment and original processing tools

・Laser machines: Providing accuracy and fast delivery
・Vibro shearing machine: a versatile machine that supports a variety of shapes
・R bending, vertical three-roller bender: Saves weight and originally developed special-purpose machine
・Other equipment for sheet-metal working and welding
●YASUNARI has changed the common sense about covers that are "heavy and tough, but hard to mount.
"
・Original processing techniques make it possible to realize desired weight saving and toughness combined with simple mounting.

●Why? Because YASUNARI has an original processing technology.

Substantial weight saving: R bending, selvage winding
Strength retention: step machining at increments of 1 mm
Appearance improvement: beading embossed at about 1 mm
Readiness to propose solutions to customers' problems
Satisfying customers with design and manufacturing technology
●Processing technologies of YASUNARI

・Please do not hesitate to consult with YASUNARI about both existing and new products, from sketching to design and manufacture.
・Capable to process thin sheets of 0.8 to 3.2 mm made of iron, stainless steel, aluminum, polycarbonate, and other materials
・Welcomes orders for prototypes and single items.
・It proposes reduction of mounting time, safety improvement, and labor cost saving through weight reduction, toughness and blocked fabrication of large-sized products.
●Proposals to improve products and delivery process to meet the customer's requirements

・Cost reduction through process adjustment according to delivery term and product application
・If customers have no drawings, YASUNARI will make design drawings from sketches.
・Straightening, finishing, inspection – YASUNARI takes care of everything for its customers.
・Stable quality is ensured by passing on skills from experienced employees to younger ones.
Corporate Profile
Corporate name

YASUNARI BANKIN CO., LTD.

Address

3-91, Ota Shinmachi, Yao City, 581-0039, Japan

President

Takanori Yasunari

Founded / Established

1950 / 1981

Phone

+81-72-949-1381

Fax

+81-72-949-7937

Company URL

(Japanese) (https://www.kk-yasunaribankin.co.jp/)