MOBIO booth No. : North facility 1st floor 28
KINKI YOKI CO., LTD.
Product line
Wide-mouth plastic containers
Electrophile paste containers
Airtight type containers
Description of business
Kinki Yoki is a general consultant for packaging and containers, operating under the philosophy of taking a unique approach to developing new information and product proposals for customers, and participating in the product planning process. They pledge to cooperate in forming new ideas and implementing high-quality product development to serve the diversifying needs of industry.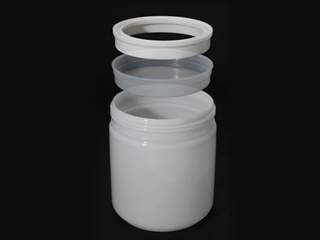 Products and Technologies
The Hi-Bessel and Hi-Select Container Series
The Hi Brand of Products, Wide-mouth Plastic Containers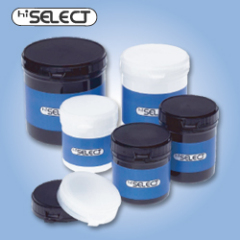 Since the first ointment container product went on sale under the Hi brand, Kinki Yoki's distinctive containers have enjoyed popularity for a variety of uses.
Kinki Yoki has put much effort into developing the functionality, design and ease of use of such wide-mouth containers as the Hi-Bessel, Hi-Select and Hi-Unique, and their products have been well received for the high level of their air-tight seal and for use in conveying objects.

Having passed water pressure tests of the International Air Transport Association, the Hi-Bessel series of containers has a high level of air tightness such that they can safely hold objects during air transport overseas.

The 3- and 4-liter Hi-Bessel electrophile paste containers are versatile and suitable for agitation operations, while the Hi-Select containers have a purging seal and are excellent for filling operations.
Produced under a 24-hour unmanned operation, these lines of containers meet the demand for stable, quality containers.
Sealing Surfaces without Parting and Special Mold Releasing
The most critical element of a wide-mouth container is being airtight.
The seal portion of Kinki Yoki's containers has a unique form without any mold parting surface so that a smooth seal is always formed without flashing, ensuring that a good seal is obtained from the mold time and time again.

Formed with injection molding, the main portion of the container is blown and has a uniform thickness with excellent barrier properties and strength.
The internal surface is larger than the mouth, and the outer form has a simple design with straight lines.
The Straight Container Series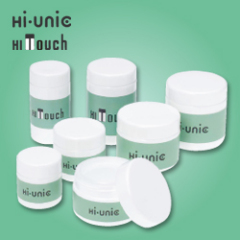 The In-blow type integrated injection molding process used for Kinki Yoki's Straight Container products results in a beautiful product with straight lines.

Hi-Unic
The body and lid have the same diameter, for a design with straight lines and a smart appearance.
To give the lid the linear form, the mouth of the container body had to be made more narrow.
Kinki Yoki developed an injection mold into a blow-type mouth form using a unique technology, creating a lightweight, beautiful film.
Capable of thermal transfer printing, the container has an increased capacity for product expression and is ideally suited for cosmetic creams and the like.

Hi-Touch
The Hi-Touch line has a higher profile and slimmer body than the Hi-Unique products.
The lid is designed to be easy to open and close.
An extra inner cover(UFO) is available as an option. They recommend the Hi-Touch line for health foods, tablets and capsules, and powders.
Neo-Bessel Containers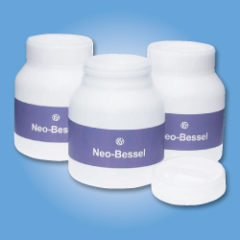 This product line has a large capacity of 10 liters, designed to be load-resistant with an internal mouth diameter of 160 millimeters.

Neo-Bessel
The Neo-Bessel boasts a large capacity of 12.2 liters when full.
The internal mouth diameter is also large, 160 millimeters across, facilitating the removal of large objects.
The lid comes with a handle for easy carrying. The lid does not come off even if the contents are as heavy as 40 kilograms.
The Neo-Bessel can be used for many different items including electronic materials in a paste or powder form.
Hi-Stack Containers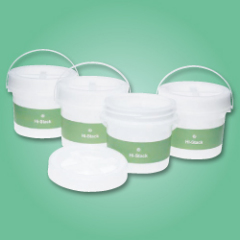 For safe, efficient conveyance. The Hi-Stack is designed with a taper to avoid taking up excess space.

Hi-Stack
The Hi-Stack is a tapered container designed to save space in the warehouse.
With three threads, the lid closes tight in a half turn.
The lid also has a ratchet that makes a clicking sound and a tactile indication when closing as well as a mechanism to prevent back spin.
Keeping in mind the environment, both the handle and the body are made of high-density polyethylene, so there is no need for separating it out when disposing.
Corporate Profile
Corporate name

KINKI YOKI CO., LTD.

Address

2-5-7 Higashi-Tenma, Kita-ku, Osaka City, Osaka, 530-0044, Japan

President

Takeshi Hishiki

Founded / Established

1951 / 1977

Phone

+81-6-6358-1261

Fax

+81-6-6358-1266

Company URL

Capital

46,000,000 yen
Patent, Design Right, ISO9001