OKUNO GLOBAL TEC. CO., LTD.
MOBIO booth No. : North facility 2nd floor 139
OKUNO GLOBAL TEC. CO., LTD.
Product line
Control cables
Wire rope end processing
Wire rope outer casing
Description of business
OKUNO specializes in manufacturing control cables, coated winding wire, wire rope and terminal processed products. By providing services from a single to mass wire production, OKUNO aims to contribute to the global society.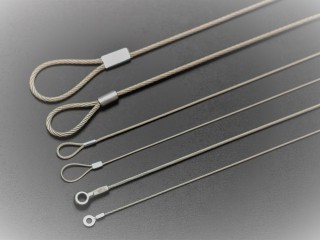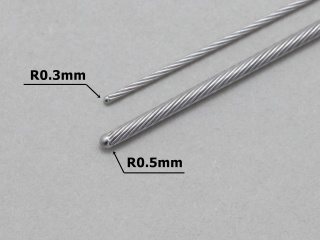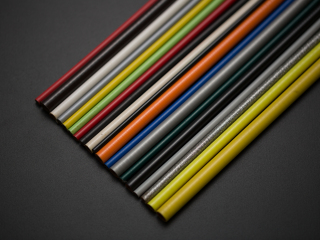 Products and Technologies
Wire tip rounding technology
Add value to the tip of the wire!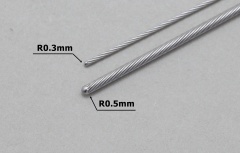 [R-shaped terminal processing]

・ R-shaped processing, equivalent to a wire diameter on the end of ultra-fine wire (0.3φ, 0.5φ, etc.)
・Since the terminal is welded, it prevents breaking apart.
・Since the guide can be easily inserted, it can be used for various purposes.
・Welding of SUS ultrafine pipe and wire is also possible.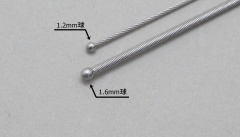 [Spherical terminal processing]

・ Spherical processing up to about twice the wire diameter on the end of ultra-fine wire
・ It can be used in various fields such as wire stoppers.
・ Reference pull-out strength SUS304 1 × 19 1.0φ Actual ability value 50kg (490N), SUS304 1 × 7 0.6φ Actual ability value 17kg (166N)
Wire end processing and outer casing technology
Capable to deliver products meeting customers demand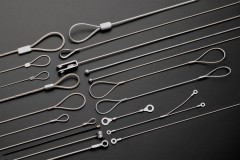 ・ Crimping of metal fittings such as iron, brass, SUS, copper, aluminum, etc. according to the application
・ Shape processing of loops, rings, hooks, terminal crimp ends, etc. on terminals with a maximum of 6φ wire rope
・ By zinc die-cast molding, the terminal is processed to prevent ball type, tyco type, etc. from coming off.
・Can be used in various fields such as automobiles, industrial products, OA equipment, and building materials.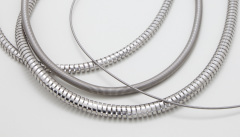 ・ Long winding (round wire / flat plate), resin extrusion molding, mesh braided outer casing
・ Continuous winding of up to 1500 m is possible with an automatic winding machine.
・ Winding wire is 0.8 to 3.0φ, outer diameter size is 2.5 to 12φ
・ Resin extrusion molding is from 2.0 to 20φ, coating and tubing processing
・ Braids are SUS, Kepler, plated wire, copper wire, etc.
Technologies and products to embody customer needs
Integrated production with abundant machinery and equipment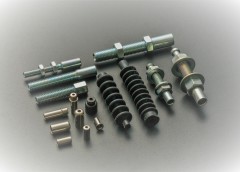 ・ Manufactures control cables with various length, wire diameter, terminal shape, tensile strength, and inner / outer decoration.
・ Manufactures reproduction and made-to-order products such as wire breakage, strength improvement, and wire lengthening.
・ In-house integrated production is possible with exclusive machinery and equipment such as rolling mills, winding machines, resin extrusion molding machines, press machines, and die casting machines.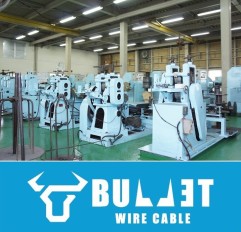 ・ Supplies high-quality wire cables with short delivery times with abundant mechanical equipment and strict quality control.
・ House brand "Bullet" communicates and contributes to machines and things [society] through OKUNO's corporate philosophy on cables.
・ Custom-made manufacturing involves designing and digitizing prototype cases ⇒ proposals and negotiations ⇒ manufacturing and delivery.
Corporate Profile
Corporate name

OKUNO GLOBAL TEC. CO., LTD.

Address

518-3 Kashoji, Tajiricho, Sennangun, Osaka, 598-0091, Japan

President

Tomohiro Okuno

Established

2009

Phone

+81-72-466-7335

Fax

+81-72-466-7336

Company URL

Capital

10,000,000 yen