MOBIO Café Meeting is an interactive session. It offers opportunities to participants asking any questions freely. On June 17 one of the exhibitors used the TV monitor at the Tech. Hall entrance for technology explanation. Whenever it was explained, a lot of suggestion and question were mentioned by participants. And its discussion continued in a canteen session.
<Part One - Technology Presentation>
1)
Stainless Steel Screws for Seawater and Acid
MARUEMU WORKS CO., LTD. (Read on to find details)
Following to corporate presentation by VIDEO, MS type screw has been explained. MS (Marine Stainless)-270 is an austenitic stainless steel superior in preventing chloride corrosion and stress corrosion cracking compared to SUS 316 and dual-phase stainless steel, which are used for pools or seawater facilities. "S" logo type at the head of screws is indicating they are ultra-corrosion resistant against "Salt".
2)
Precision Parts Machining
TENKING CO., LTD. (Read on to find details)
High technical capabilities of machining and quality control cultivated by imaging parts production over five decades allows TENKING CO., LTD. to respond to market demand correctly and timely and to expand business in an automobile industry and a single-lens reflex camera. Recently they are devoting to develop the new category product.
3)
Ion Nitriding & Vacuum Heat Treatment
HATTA KOGYO CO., LTD. (Read on to find details)
Because their heat treatment method is unique in Kansai (Osaka area) they provide immediate and short lot run services.
With vacuum heat treatment there is no opportunity for corrosion to set in extending component life and distortion is significantly reduced due to the precise control of the temperature in the furnace, and the heating and cooling speeds. Particularly when applied to higher alloyed steels, plasma nitriding imparts a high surface hardness which promotes high resistance to wear, scuffing, galling and seizure.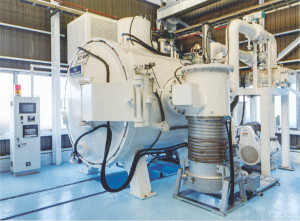 <Part Two-Free Discussion>
Following to business card exchange, participants started individual communication, "Can you elaborate that technology?", "Can you process in this way?", "Oh, you have such a technology!" or "Is your technology applicable to this products?" At MOBIO Cafe Meeting participants talk each other quite frankly as the initial step for future business.
******
Coming up the next MOBIO Cafe Meeting - Bus Tour type
Date: July 13
--> Read on to find details and to register
<Schedule>
13:00 Bus departure from MOBIO
13:30-15:00 Factory tour at MATSUDA
16:00-17:30 Lab tour at TRI
17:45-19:15 Canteen session
19:30 Bus departure for MOBIO