This is the state-of-the-art technology developed by Japanese SMEs.
At the MOBIO Tech Hall and MOBIO WEB site, search for "The Latest Made in Japan Tech" to improve product features and functions. SASAKI CHEMICAL CO.,LTD.: https://www.m-osaka.com/en/exhibitors/298/
Some of MOBIO Tech Hall exhibitors also promote their products and technologies out side MOBIO. One of them is "Osaka ATC Green Eco Plaza" at ATC, Osaka. https://www.m-osaka.com/en/exhibitors/333/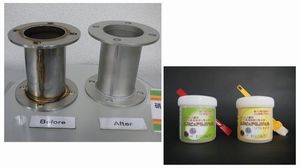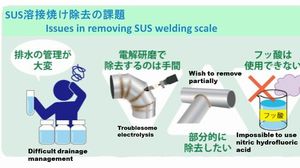 Welding scale removal of stainless steel is an essential process to prevent oxidation. However, there are many difficulties: commonly used hydrofluoric acid is dangerous, requiring additional electricity and equipment, requiring wastewater management and receiving huge water bills. The amazing technique to solve them all at once is S-PURE SJ-Gel, a functional gel without containing any nitric hydrofluoric acid for stainless steel by SASAKI.
Watch a VIDEO for details:
At the booth on the 2nd floor of the MOBIO Tech Hall, SASAKI displays metal surface treatment chemicals. Drop by MOBIO to review them.