MOBIO booth No. : North facility 1st floor 20
TECHNO ROLL CO., LTD.
Product line
Rollers for UV printing
Roller cleaning equipment
Adhesive rollers for removing dust
Description of business
Techno Roll is a manufacturer of rubber rollers, providing the whole world with its uniquely developed, high-quality products. The company leads the world in rollers for UV printing and adhesive rollers for removing dust. The products it develops are widely used, and are held in high regard. In addition to its own products, the company also introduced superior rubber materials from foreign countries. Besides rollers, the company also develops machines. Two systems that the company has designed and manufactured according to customer requests are its ink density control device and its automated cleaning device for various kinds of rollers. Techno Roll welcomes inquiries for anyone have problems with rollers or roller accessories.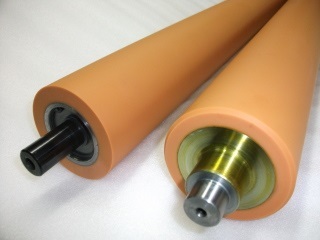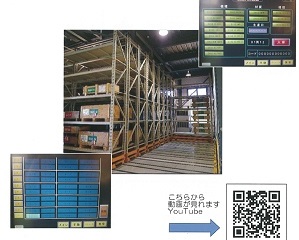 Products and Technologies
The globally accepted standard in rubber and resin rollers
Techno Roll can help your company achieve cost savings while improving quality.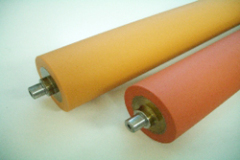 Techno Roll is a manufacturer and vendor of rolls suited to a variety of printing and industrial applications.

Their Trust series of resin rollers for UV printing and coatings has already been adopted as a standard by many equipment manufacturers.
Techno Roll has licensing agreements in 12 countries, of which they locally manufacture and sell printing rollers in eight.
They are currently inviting companies interested in licensing to join them in setting the global standard even higher.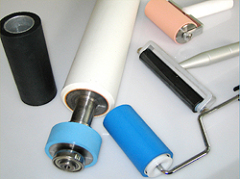 For industrial use, the specially formulated rubber adhesive rollers in their Clean Dash series use the adhesive power of the rubber itself to remove dirt and dust.
When the surface of the adhesive rubber becomes covered with dust and dirt, simply wipe it clean with a solution to restore the roller to its full strength.
Techno Roll can set the roller interval to suit your production line, matching the amount of dust and line speed to ensure the automated cleaning process is efficient.
Techno Roll strives every day to improve quality through its on-going R&D program, fulfilling their customers needs whatever they may be.
They welcome requests from customers no matter how small.
The Dust Hunter, An Automatic Continuous Dust Removal Device
The Dust Hunter is an automatic continuous dust removal device that utilizes the Clean Dash sticky rubber roller developed by Techno Roll.

With a simple, light touch, this sticky rubber roller eliminates dust and static electricity without affecting products in any way. Furthermore, continuous dust removal is made possible by the Dust Hunter's special feature for automatically cleaning dirty sticky rollers, which also guarantees easy maintenance and safe operation.

The Dust Hunter is available in a variety of product lines and can be customized to order according to specific requirements for the types and quantities of dust to remove.
The Trust WL, Antistatic Roller
The Latest Development in Techno Roll's Trust Series of Leading Products

Techno Roll's Trust rollers are number one in the Japanese market for ultraviolet printing rollers.
The Trust WL retains superior performance, while incorporating a new electroconductive function that moderates surface electrical resistance.
This prevents the generation of static electricity, a persistent problem during waterless printing, making it ideal for customers performing gravure, seal, cup or waterless flat plate printing.

In addition, Trust WL tends not to expand in the presence of most solvents, including solvent coatings and ultraviolet inks. As a result, it can maintain an even coating film, an added benefit for a variety of roller coatings.

The Trust WL roller: Now used by leading digital imaging printer manufacturers in the US and expanding throughout the world.
Corporate Profile
Corporate name

TECHNO ROLL CO., LTD.

Person in charge

Oversea Sales Chief

Sumihiro Ikejiri

E-mail

Address

3-4-5 Techno Stage, Izumi City, Osaka, 594-1144, Japan

President

Hiroshi Nishiwaki

Founded / Established

1979 / 1980

Phone

+81-72-553-3933

Fax

+81-72-553-3922

Company URL

Japanese (http://www.technoroll.co.jp/)

English (http://www.technoroll.co.jp/en/)

Capital

25,000,000 yen

Major account

Manufacturers of printers, optical film, ink and automotive parts, as well as printing companies and metal printing companies

Overseas facility

Asia

Europe

NorthAmerica

SouthAmerica

Oceania
Patent, ISO9001, ISO14001