Visitors will discover "Amazing Made in Japan Tech" developed by SMEs at MOBIO Tech Hall. Visitors came from Aira City, Kyushu. MOBIO introduced companies that have factories in the area, such as
DIES & TOOLS ENG. CO., LTD. https://www.m-osaka.com/en/exhibitors/315/
FUSERASHI CO., LTD. https://www.m-osaka.com/en/exhibitors/152/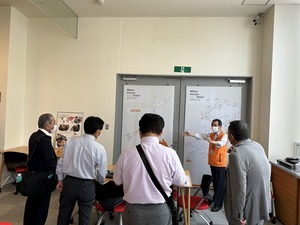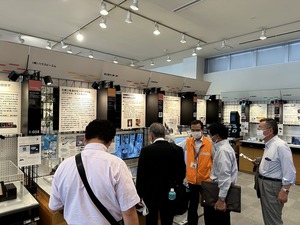 L) Noticing a sticker on the map, they mentioned "Oh! Visitors from our region" and put a sticker on too.
R) Watching a video on the stand, they remarked, "Well, the metal surface is hardened by the IH machine" at the booth of FUJI ELECTRONICS INDUSTRY CO., LTD. https://www.m-osaka.com/en/exhibitors/311/
MOBIO Tech Hall can also be used for training. Please visit and book in advance for group tour in Japanese.