This is the state-of-the-art technology developed by Japanese SM Es.
At the MOBIO Tech Hall and MOBIO WEB site, search for "The Latest Made in Japan Tech" to improve product features and functions.
SANKI MFG., INC. : https://www.m-osaka.com/en/exhibitors/477/
SANKI specializes in custom-made screws and screwdrivers. It has developed, manufactured new products one after another and intoroduced in its corporate VIDEO. The latest title of the VIDEO is "Iron Wing Bolts Don't Fall Off". Good news for operators who tighten a lot of wing bolts by hand!
This is a super convenient tool for tightening iron wing bolts, allowing workers to tighten them without hand pain and increase work efficiency.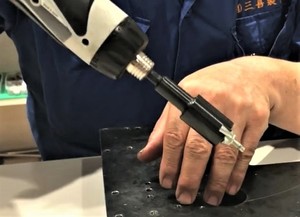 Click here to watch the company's video to know how to use it. (in Japanese)