Find out why and how presidents of MOBIO exhibitors started "INNOVATION and CHALLENGE" through the special interview. The latest "Meet the President" article is
Mr. Takeshima of SHINKO BLAST FACTORY CO., LTD. https://www.m-osaka.com/en/exhibitors/399/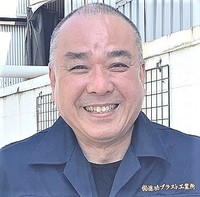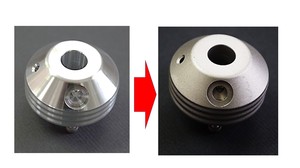 (Before and after blasting)

- Metal surface modification by sandblast processing, Polishing glass
●Noticed complexity of the sandblasting process through the development of anexclusive product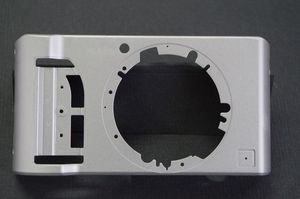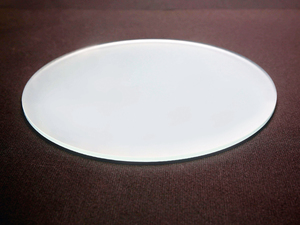 L) Digital camera bodies are blasted to improve aesthetics
R) In-house product: glass polishing table
Sandblasting is a technique for finishing the surface of metal products by spraying them with sand (abrasive). By shaping the surface with grains of sand, it is possible to enhance the design and add various effects such as anti-slip and anti-reflection.
Until around 2010, the company focused mainly on blast processing for decorative purposes, such as digital camera bodies, where appearance is important, as most digital consumer electronics were manufactured in Japan. When digital cameras replaced production outside Japan, the company focused on developing its glass polishing table.
The glass surface is sandblasted to add a polishing function. The excellent flatness of the polished surface enables it to be used for cross-sectional inspection of semiconductors requiring high precision, and its polishing speed and durability are superior to those of conventional products. In 2019, the patent was granted. Then SHINKO blasted promotional activities.
Takeshima said "The size and shape of the abrasive completely changes the final finish. I was reminded of the difficulty of blasting, which can be used for a wide variety of applications depending on the choice of blasting materials. I realised that this was only possible because of the material management expertise we had developed over the years to achieve a beautiful finish."
●Suggests the most appropriate blasting process for the application, such as design, functionality and strength enhancement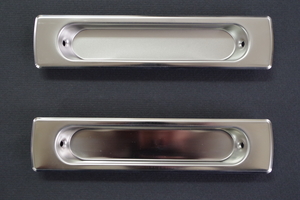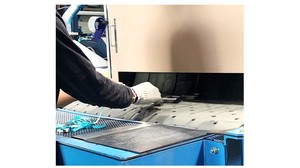 L) An example of a blasted product
R) The object is passed through the machine, Compressed air is mixed with abrasive and blown
The company's strength lies in its ability to select and recommend the most suitable materials for each application, and to develop blasting processes for a wide range of applications that go beyond traditional decorative uses, such as adding strength and anti-slip functionality, or improving paint adhesion when painting or other post-treatment is required.
To attract a large number of small customers, rather than focusing on large accounts, SHINKO has set up a website and attends trade shows. The contacts recently led to a job blasting shelves in the store of a well-known clothing brand.
●Earning trust through consistent quality and quantifying and proving it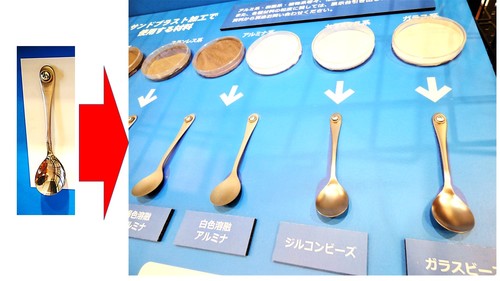 (Spoon display at its MOBIO booth shows finish result at a glance by blasting materials)
The best management of the abrasives used for blasting, such as dirt management and how much to replenish at what time of day, will help to maintain a certain level of beautiful finishes. And the company measures surface roughness after blasting, quantifies it, and reports the results.
This allows the company to prove that the same quality is maintained for all high-volume products, and also minimizes color changes and distortions caused by differences in surface roughness, so defects are rarely seen.
In 2022, a new machine was installed to handle the larger size items that were being requested. Takeshima said, "It is a time of great change due to technological innovation. We also need to think of something new, something in addition to blasting."
--
Interviewed on May 2, 2023
Send your question or request from here to SHINKO BLAST FACTORY CO., LTD.