MOBIO Cafe Meeting on March 23 was a memorable gathering, celebrating its 100th session. All participating exhibitors (twelve) joined to explain technologies. It was another step forward to develop new business among participating parties. MOBIO Café Meeting is a cross-industry gathering, held twice a month. It offers opportunity to participants asking any questions freely.
<Presentation and Discussion>
●Extinguishing fire earlier with water saving function
ECTechno Inc. ⇒Click for more info.
A portable fire extinguishing unit with a water saving nozzle is connectable to the nearest water faucet to the origin to a fire.
●Aiming at the Japan's leading plastic hook manufacturer
KAWASHIMA INDUSTRIES CO., LTD. ⇒ Click for more info.
It offers rapid integrated support for planning, injection molding, ultrasonic welding, paining, coating and assembly of plastic products.
●Fabricating prototypes for a new product development
TAISEI MONAC CO., LTD. ⇒ Click for more info.
Whether plastic or metal, it provides a wide range of cutting, machining and other work techniques to produce realistic models.
●A vanishing scrub agent in a hand-wash detergent
SUZUKI YUSHI INDUSTRIAL CO., LTD. ⇒ Click for more info.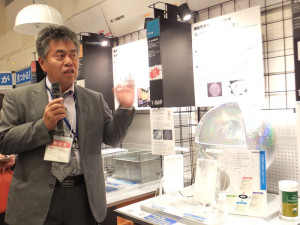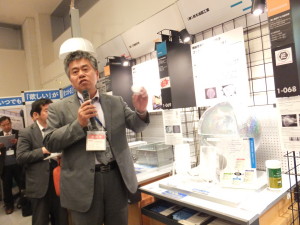 Adding to an inorganic spherical porous particle for use in chemistry, it introduced a new industrial hand-wash detergent that include a vanishing scrub agent.
●Metal machining from made-to-order parts to mass production parts
KINKI INDUSTRIAL CO., LTD. ⇒ Click for more info.
Applying its expertise fabricating hydraulic cylinder parts for hair dressing chairs, it offers a high-mix low-volume machining production.
●Its pre-coating process makes the difference!
FUTABA-TOSO CO., LTD. ⇒ Click for more info.
Its original putty protects metal castings from oil for more than 30 years and bake coating of rich colors provides functionality and beauty of a machinery.
●Helping stamping processes reduction up to 1/6 by a mold
KONISHI METAL MOLD ENGINEERING ,LTD. ⇒ Click for more info.
Its "new hybrid mold" is an entirely new mold technology to simultaneously conduct processing and machine processing.
●Thin plate welding by laser: The world leading operation for lithium batteries
SANGO INDUSTRIAL CO., LTD. ⇒ Click for more info.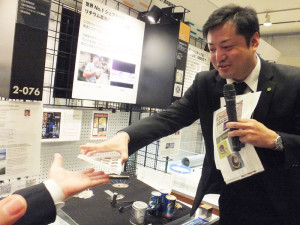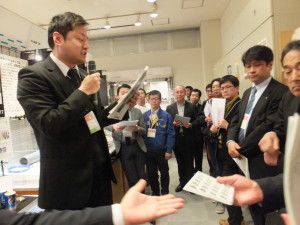 Its ultra thin plate welding technology has developed another step forward realizing "alloying" by different metal welding, such as combinations of aluminum and phosphor bronze, and nickel and iron.
●An information operations through "creating stories' about "assets'
Osaka Chaos CO., LTD. ⇒ Click for more info.
It aims at strategic collaboration to enhance companies' values through multifaceted creation of services and markets.
●The Last Stronghold for Weatherability (light resistance) Testing
KANSAI LABORATORY CO., LTD. ⇒Click for more info.
One year's outdoor exposure can be reproduced in two to three days by super-accelerated testing equipment for discoloration and degradation of plastics, films and metallic paints.
●An ultra thin rubber sheet
KAMEIDO RUBBER INDUSTRIES CO., LTD.
With its unique technology the ultra thin like 0.1 mm rubber sheets are available.
●Multilayer bellows for vacuum and high pressure applications
MITSUMOTO RASENKAN KOGYO CO., LTD. ⇒ Click for more info.
Using an original deep drawing technology, it reduces thin plate ( 0.1 mm) to fabricate thin and equally thin wall, offering great flexibility and a large contraction ratio.
●Metalworking will be improved by made-to-order lubricants!
KANSAI TOKUSYU KOSAKU-YU CO., LTD. ⇒ Click for more info.
It uses a trial and error approach to develop metalworking fluids that meet customers' needs, and manufactures them in small lots.
<Off the Tech Hall>
Frank discussion continued overtime and participants were relaxed and enjoyed their free time as much as possible. We, at MOBIO, really look forward to collaborate with participants all the year round.
******
The next MOBIO Cafe Meeting will be hosted on April 12 by three exhibitors.