SHARP CHEMICAL IND. CO., LTD.
MOBIO booth No. : North facility 1st floor 22
SHARP CHEMICAL IND. CO., LTD.
Product line
Sealants
Adhesives
Waterproofing materials
Description of business
Multicolor products (sealants, putty)
Low-cost refill of pouches and cartridges
roduction system capable of small-lot production of a wide variety of products
Adaptable development system (small-quantity orders also welcome)
Convenient shipping system (same-day shipments OK)
Also accepts difficult stirring and dissolving orders and small-quantity OEM orders.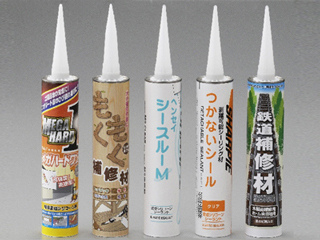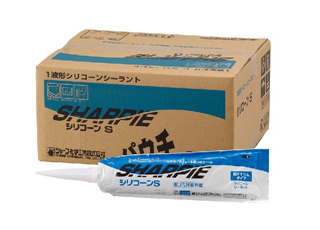 Products and Technologies
Sealants, Adhesives, Corking
The SK Pouch, a Greener Container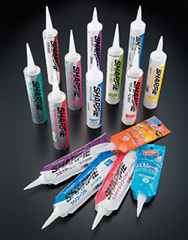 As a general manufacturer of adhesives and sealing products, Sharp Chemical Industry develops new products to meet the needs of industry and the home.
One of those products is the environmentally friendly SK Pouch.

Conventional containers for sealants and adhesives must be thrown away after use and because they are rigid, occupy a great deal of space after disposal, a major environmental problem for both construction sites and the home.
The SK Pouch decreases the volume of waste by 90 percent and is made with 80 percent less material than typical containers, making this product a greener alternative.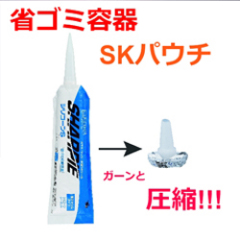 What is more, the SK Pouch is highly functional. Unlike conventional manual cartridge-type containers, the SK Pouch can be managed by hand or with a tool.
The original design for this container received the Good Design Award in 2001.
Neither formalin or toluene are used in the manufacture of the SK Pouch, so it is gentle on the environment and human health.

Sharp Chemical Industry has domestic and international patents pending for the SK Pouch.
Sharp Chemical new release line-up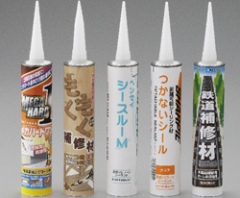 MEGA HARD 1
Repairing elastic adhesives for concrete.
When it's cure, it become hard rubber like, so it can be applied to concrete floor cracks of warehouses or factories. It also can be used to fill the joints of floors to prevent the damage from high heals.

Lumber Repair Caulking
Repairing caulking for wood decks or log houses.
It can be applied to repair corroded lumber or fill the holes or cracks of lumber. It's compounding technique is adopted as the repairing materials for sleeper of Hankyu Railway.

Sharpie Modified Transparent M
MS sealants clear color.
Generally paints can't be applied to silicone sealants but to the Modified Transparent M you can apply paints. Silicone sealants cause pollution on the outside walls, but Modified Transparent M don't cause the problem as silicone sealants.

Detachable sealants
After curing, it can be detached form smooth surface.
It can be used for the temporary adhere or anti-slip purpose.

Rail Sleeper repairing sealants
It can be used as repairing materials for rail sleeper. The old sleeper can be recycled, so that you can save disposing costs. And also it's eco friendly to reduce the waste.
Dansei Bond, a Resilient Adhesive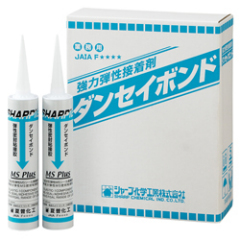 Almost everyone has had the experience of using an adhesive advertised as ultra-strong, only to find that the object pops back off.
No matter how strong the adhesive is, when you try to glue two objects with a different coefficient of thermal expansion, the bond will not be able to withstand shocks unless the adhesive has resiliency.

Sharp Chemical Industry's Dansei Bond is resilient and ideal for use with materials having different coefficients of thermal expansion such as stainless steel plate and concrete.
This product is ready for use. No need to mix or combine products.
Brand Labeling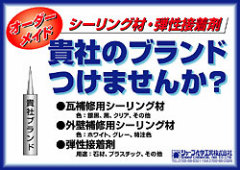 Sharp Chemical Industry will brand their adhesive and sealant containers with your company's name. This is particularly useful during construction and remodeling projects.

Although the outside has your company's name, the content has the same high-quality silicone, modified silicone, urethane and other tried and true products from Sharp Chemical.
This service is available for cartridges as well as the SK Pouch lineup.
Labeling can be done with colors, dimensions and other design effects to meet your company's logo.
Corporate Profile
Corporate name

SHARP CHEMICAL IND. CO., LTD.

Person in charge

Sales

Yoko Ito

E-mail

Address

12-1,ChikkoHamadera Nishi-machi, Nishi-ku, Sakai City, Osaka, 592-8352, Japan

President

Mikio Murakami

Founded / Established

1960 / 1965

Phone

+81-72-268-0321

Fax

+81-72-268-0326

Company URL

Japanese (http://www.sharpchem.co.jp/)

English (http://www.sharpchem.co.jp/english/)

Chinese (http://www.sharpchem.co.jp/chinese/)

Capital

92,000,000 yen

Major account

Wholesalers of paint and waterproofing related products, DIY stores

Overseas facility

Asia