MOBIO booth No. : North facility 2nd floor 103
TAKAZAWA MFG CO., LTD.
Product line
Propeller shafts
Hydraulic fishing boat equipment
Seal sterns
Description of business
Takazawa Manufacturing is a general manufacturer of devices and equipment for the sterns of boats as well as boats in general. Each day, they endeavor to respond promptly to customer orders, creating novel designs and quality products at a reasonable price. Their hope is to continue strengthening their technical capacity to widen the scope of companies that use and trust their products.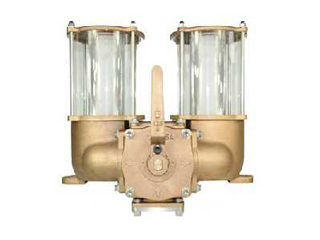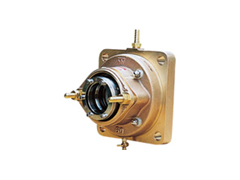 Products and Technologies
Propeller Shafts and Seal Devices
Propeller Shafts and TW Seal Sterns, the Highest Quality in Japan
Takazawa Manufacturing developed their propeller shaft material in collaboration with a leading steel manufacturer, creating a product that is absolutely trustworthy for its corrosion resistance, rigidity and durability.

They maintain an ample supply of materials including such stainless steel types as SUS 304 and 316, TXA 208 and SP1, and such brass materials as TS-1AS. They also carry KSFR45, KSFR60 and a range of other materials.

Their sealing device the TW Stern Seal is a patented device to make the stern tube watertight, protecting the lives of those working at sea. Fifty thousand boats throughout Japan are fitted with the TW Stern Seal.

The TW Stern Seal works with a diaphragm construction for outstanding watertightness, decreased friction resistance with the propeller shaft, and energy savings due to improved rotation transmission.
The design eliminates trouble due to wear and corrosion of the packing gland, and the packing gland does not need to be adjusted when mooring or taking off.
Finally, the resistance to wear is excellent due to the ceramic and carbon used in the seal surface.
The TW Stern Seal is highly praised by sailors who are confident in the safety it provides.

Fraudulent Email Alert
It has been brought to our attention that lawyers in different countries, including the United States, Canada, Australia and the United Kingdom, have received fraudulent e-mails sent by a person claiming to be a senior executive of TAKAZAWA MFG CO., LTD.
These e-mails request the lawyer's services in collecting delinquent or past due accounts supposedly accrued by local companies often citing "international legal boundaries that prevent TAKAZAWA MFG CO., LTD. from collecting the debt directly. When the lawyer agrees to perform the services, the sender will identify a local company that owes a debt to TAKAZAWA MFG CO., LTD.. Many of these e-mails have been sent from fake email addresses using domain name such as "takazawa-ss.jp" although they may appear upon initial examination to have been sent from authentic TAKAZAWA MFG CO., LTD. e-mail addresses.

These e-mails are hoax. Recipients of such email inquiries are advised not to respond.
Please do not attempt to undertake any business arrangement with persons purporting to act for, or on behalf of, TAKAZAWA MFG CO., LTD.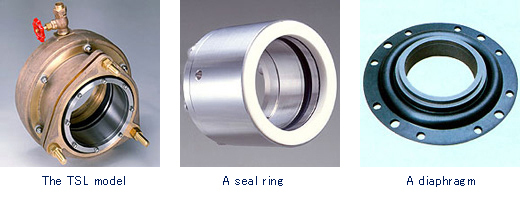 The patented TW Stern Seal, suitable for a shaft of 30 to 250 mm
New Boat SL-2 A High Molecular Weight Polyethylene Surface Support Material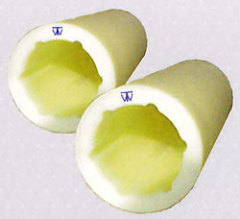 The New Boat provides surface support for the stern tube and rudder shaft of small and medium-sized boats.
Rated highly for its performance, it is the most commonly used material in Japan.

New Boat SL2 was developed in cooperation with a leading resin surface support manufacturer.
Three decades in the making, New Boat SL2 was perfected with the use of innovative production technology, and is the ultimate in quality tube surface support with a molecular weight of 6.3 million atomic mass units (u).

As a propeller shaft bearing material, New Boat SL2 provides a performance standard many times higher than other bearing materials particularly in such vital properties as the coefficient of friction, wear resistance and strength.

Features of New Boat SL-2

?Lighter than general nylon resin and does not expand in water
?Resistant to shock, does not easily break or crack
?Suitably elastic, protects the shaft material and absorbs sound
?Provides excellent wear resistance with much less material than other products
?Has a lubrication additive effect in addition to conventional self-lubrication, dramatically decreasing the friction resistance compared to other materials; New Boat SL-2 has excellent sliding properties
High-quality Products, Patents and Utility Models
Takazawa Manufacturing contributes to the development of the marine industry as it enters a new era.
Products incorporating leading-edge technology include shaft coupling hydraulic pushing devices, shaft coupling hydraulic removing devices, TW proportional type universal joints, seawater filters and many other patented and utility model products.

One of Takazawa Manufacturing's mainstay products is propeller shaft material.
Created in collaborative R&D work with a leading material manufacturer, this material is made of stainless steel for ultra corrosion resistance, wear resistance, high strength and high precision. Their brass shaft material TS-1AS also provides a high level of strength and ultra resistance to corrosion.
Takazawa Manufacturing employs a thorough material control system to ensure excellent quality and endurance for the finest propeller shaft material in Japan.

To ensure customer satisfaction, they start with such quality materials and work with leading technologies on the latest and best in production equipment, including heavy cutting long NC lathes, NC horizontal boring machines, general long lathes, small NC lathes, equipment specially devised by Takazawa Manufacturing and other excellent machinery. Backed with such an exceptional production system, they work to maintain quality, low prices and fast delivery times.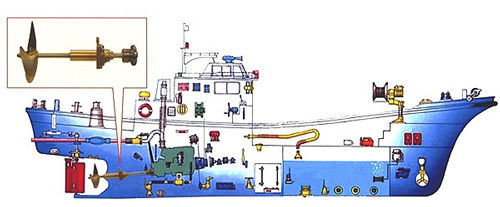 Corporate Profile
Corporate name

TAKAZAWA MFG CO., LTD.

Address

6-8-33 Kizuri, Higashi-Osaka City, Osaka, 577-0827, Japan

President

Koichi Takazawa

Founded / Established

1951 / 1959

Phone

+81-6-6729-1001

Fax

+81-6-6727-6650

Company URL

Capital

53,000,000 yen
Patent, Design Right, ISO9001