HARD LOCK INDUSTRY CO., LTD.
MOBIO booth No. : North facility 2nd floor 81,82
HARD LOCK INDUSTRY CO., LTD.
Product line
HARDLOCK NUT
HLB ( HARDLOCK BEARING NUT
SPACELOCK NUT
Description of business
Hard Lock manufactures and sells nuts that do not loosen as well as other hardware that plays a vital role in building safety despite being tucked in locations invisible to the public eye. Hard Lock is dedicated to their manufacturing concept of the power in safety.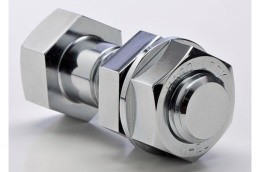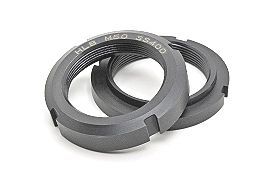 Products and Technologies
Power in Safety
A new concept shapes safety
The anti-loosening Hard Lock Nut HL and Hard Lock Bearing Nut HLB® employ the wedge principle to achieve a powerful locking energy not affected by shock or vibration. They are safe, easy to fasten and remove, and generally easy to use, and are also maintenance-free. The popularity of these products in industry has set Hard Lock apart from other hardware manufacturers.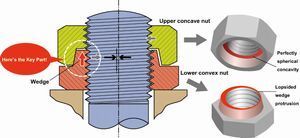 Hard Lock's products are used to ensure safety on railroads, expressways and bridges as well as in high-rise buildings, industrial machinery and public facilities.
No other locking nut has the anti-loosening power, ease of use including fastening and removal as Hard Lock's nuts. Plus, they are maintenance-free. These economic advantages are reflected in the high level of trust and popularity that Hard Lock's products have gained in industry.

Created in the pursuit of safety, the Hard Lock Nut proves its power by protecting the public in places invisible to the eye.
●The globally recognized HARDLOCK Nut

Utilizing the wedge principle used in ancient Japanese architecture, the HLN is the ultimate self-locking nut which perfectly succeeds to integrate the nuts with the bolt.

・Self-locking effect recognized by the world
HARDLOCK Nut also passed the United States NAS (National Aerospace Standard) aviation standards.
・Enables Torque and Axial Force control
Controlling axial force with proper torque wherever it is used.
・Possible to re-use
All metal with little abrasion, sustains a high self-locking effect.
・Good and simple workability
Easy installation with commercially available tools.
・Provides substantial cost savings
Allows significant reduction in total cost by reducing maintenance costs, labor costs etc.
●The Hard Lock Bearing Nut HLB®The HLB®

Built with the same powerful, anti-loosening construction as the Hard Lock Nut, the HLB or Hard Lock Bearing Nut provides superior fastening power to prevent bearings from loosening and is highly rated in industry. The internal locking energy is completely unaffected by external shock and vibration, maintaining a completely fastened state.

The HLB is used widely in welding, pressing and lathe machinery as well as equipment for construction, transportation, trains and shipbuilding. The HLB is so well trusted, it is also employed for use in robots and aerospace.

The HLB is maintenance-free and has a stronger fastening force and higher efficiency that other general-purpose nuts. The economic value resulting from the lower total cost meets a strong demand and has built strong trust with industry.
Applications of the HL®
HARD LOCK NUT
The Hard Lock® Nut protects the public in such applications as

railroads, expressways, bridges, buildings, civil engineering projects, steel towers, railway cars, transportation machines, shipbuilding, atomic power plants, dams, steel-making machinery, metal presses, rock crushers, and other production equipment in major industries
Applications of the HLB®
HARD LOCK BEARING NUT
The Hard Lock® Nut protects the public in such applications as

operational gears, machine tools, bearings for main shafts, bearings for drive components, welding robots, indices, concrete pump trucks, reduction gears, transmissions, general-purpose pumps, clutch brakes, large dump trucks, forklifts, balancers, aerial vehicles, service trucks [NOTE: Cannot find a word specifically meaning a truck with a ladder. "Ladder truck" refers to fire engines with ladders], piston pumps, lifts, crushers, amusement equipment and more
A Timeline of Hard Lock Industry
April 1974
Established as Hard Lock Industry in Nagata, Joto-ku, Osaka. Began manufacture and sales of the Hard Lock Nut.

March 1977
Company name changed to Hard Lock Industry Co., Ltd. Capitalized with 4 million yen.

June 1977
Higashi Osaka factory constructed.
March 1979
Manufacture and sales begun of the HLB or Hard Lock Bearing Nut.

October 1982
Tokyo Branch Office established in Ueno, Taito-ku.

June 1985
Cold forging implemented initially with small-diameter products.

June 1985
Capital increased to 16 million yen.

August 1990
Head office and main factory moved to present locations.

January 1992
Television and radio publicity campaign begins on Asahi and other networks.

May 1996
Head office factory number 3 begins operation.

April 1997
Tokyo Branch Office moved to present location.
September 1997
Listed in "Daikyoso Jidai-ni Hiraku" ("Forging Ahead in the Era of Big Competition"), published by Nihon Kogyo Shimbun.

January 1998
Advertising campaign begins in railway and subway stations.

January 1998
Received the Research and Development Award at the 15th Outstanding Administrator Award Ceremony sponsored by Nikkan Kogyo Shimbun.
March 1998
Listed in "Kansai-no Sairyo Kikai Meika 100-sha" ("The 100 Top Machinery Manufacturers in Kansai"), published by Nikkan Kogyo Shimbun.
June 1999
Manufacturing of the new SLN (Space Lock Nut) begins, with sales to selected clients.
April 2000
Manufacturing of the new HLS (Hard Lock Set Screw) and HL-P (Hard Lock Pin Lock Bolt) begins, with sales to selected clients.
October 2000
Created online presence with Web site in Japanese and English.

October 2000
Head office factory number 4 begins operation.

December 2000
Trading Department established.

March 2001
Received ISO 9002 certification from a TÜV.

November 2001
Booth at the WCRR (World Congress on Railway Research) at the Koelnmesse in Germany.

November 2001
Appeared on NHK's program "Itsutsu-no Sentaku" ("Five Choices") commemorating the completion of new office buildings.

December 2001
Eastern European delegation take an observation tour of Hard Lock's.

March 2002
Appeared on an edition of TBS program "Broadcaster" featuring Higashi Osaka.
May 2002
Manufacturing of the new SLB (Space Lock Bearing Nut) begins, with sales to selected clients.

January 2003
The Hard Lock Nut first in the industry to receive the Good Design Award.
January 2003
Received the Special Encouragement Award at the 36th Medium and Small Business Research Institute Awards. Received Special Encouragement Award of Merit

March 2003
Delivery of Hard Lock Nuts for fastening devices used in construction for the Taiwan High Speed Rail.
Corporate Profile
Corporate name

HARD LOCK INDUSTRY CO., LTD.

Address

1-6-24, Kawamata, Higashi-Osaka City, 577-0063, Japan

President

Katsuhiko Wakabayashi

Founded / Established

1974 / 1977

Phone

+81-6-6784-1131

Fax

+81-6-6784-1161

Company URL

Meet the President (https://www.m-osaka.com/blog_en/2017/07/10/001150.html)

Capital

10,000,000 yen
Patent, ISO9001, JISQ9100