YAMAOKA INDUSTRIAL CO., LTD.
MOBIO booth No. : North facility 1st floor 31
YAMAOKA INDUSTRIAL CO., LTD.
Product line
Commercial gas cooking appliances
Outdoor gas heaters
Environmental equipments
Description of business
… Designing heat and air flow…

Yamaoka Industrial is engaged in the planning, development, manufacture and sale of equipment, including commercial kitchen appliances, commercial grill tables, caf appliances, household cooking appliances, outdoor heaters, environment-related equipment and the OEM manufacture of metal goods.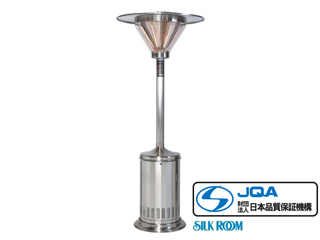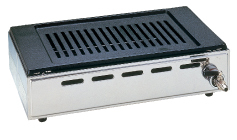 Products and Technologies
Designing heat and air flow
Yamaoka Industrial Co., Ltd., designing heat and air flow
Commercial cooking appliances, outdoor heaters, etc.

(1) Kamameshi Gattsu Rakuraku (stove for cooking rice pots)
Fully automatic, microcomputer-controlled stoves. Customers can select from a full range of 4-burner, 6-burner and 10-burner models according to their space requirements.

(2) Smokeless roasters
Duct-type smokeless roasters allow for a pleasant restaurant ambiance.

(3) Patio heaters
Outdoor heaters are effective if set up at outside tourism and leisure facilities.
Environment-related equipment

(1) Electronic air curtains
Ionic wind is used to block the flow of cigarette smoke, etc.

(2) Grease filters
Adsorbs and processes oil mist and cooking fumes from kitchens, etc.
Café appliances

(1) Gas siphon bar equipment
Gas appliance for brewing siphon coffee, which also combines a sense of interior design.

(2) Coffee machines
A variety of coffee extractors and manual and automatic models are available.
Household cooking appliances

(1) Table-top grills
Used widely for both commercial and general household applications.

2) Household takoyaki grill
Because it uses a gas stove, the takoyaki (octopus dumpling) grill produces delicious dumplings.
Corporate Profile
Corporate name

YAMAOKA INDUSTRIAL CO., LTD.

Address

2-7-30, Togo-Dori, Moriguchi City, Osaka, 570-8585, Japan

President

Hidefumi Yamaoka

Founded / Established

1956 / 1960

Phone

+81-6-6996-2351

Fax

+81-6-6997-3045

Company URL

Meet the President (https://www.m-osaka.com/blog_en/2020/12/12/003061.html)

Capital

40,000,000 yen
Patent, Design Right, ISO9001, ISO14001, Eco-friendly