RIKEN KEIKI NARA Mfg.CO., LTD.
MOBIO booth No. : North facility 2nd floor 99
RIKEN KEIKI NARA Mfg.CO., LTD.
Product line
Automatic Press Monitoring Device
Press Slug Detector
Miss Detection Unit
Description of business
RIKEN KEIKI NARA MFG. Co., Ltd. separated as a subsidiary of Riken Keiki Co., Ltd. (currently listed on the first section of Tokyo Stock Exchange) in 1972. Since 1981 RIKEN KEIKI NARA has focused on development of original products, particularly, in the field of quality control and productivity improvement of high speed press operations. Thus they remain committed to development, manufacture and sales of emergency supervisory equipment and measurement devices for press machines.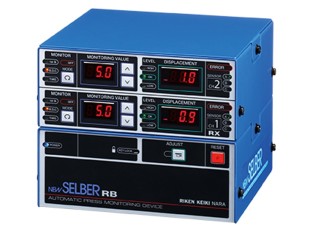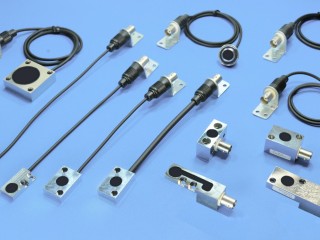 Products and Technologies
On alert ! Minor changes in case of slug occurrence.
Emergency supervision of general-purpose press machines ? from the age of intuition to the age of digital management.
RIKEN KEIKI NARA has prepared devices that can be used for your press machines!
●Support for high speed rotation press machines (max. 4000 spm)
●Originally developed high performance eddy-current displacement sensors
●Numerical input increment ? 0.1 mm for RB/RX Series and 1 mm for GX Series
●Press machines are shut down as soon as a deviation from supervision range occurs
●Stability of product quality, prevention of damage to tools and dies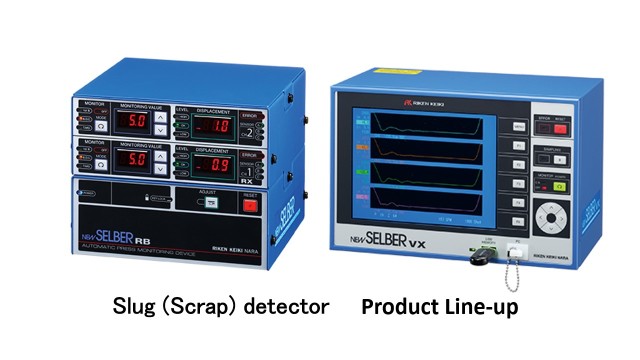 Bottom Dead Center Absolute Value Monitoring Device RM-7201(GX)
Follow-up supervision is possible on color display!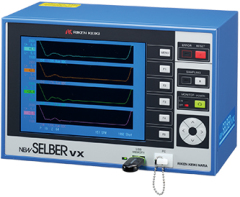 ●High speed tracking and high reliability are ensured
High speed tracking with display indication is supported up to 2,000 min-1 (spm)

●Visual supervision screen
Time evolution of the ram can be supervised clearly in a large graph using 5.7-inch color LCD.
Using the one-shot waveform indication function, movement of the die or stripper plate can be seen quite clearly in the waveform, thus contributing to press form follow-up.

●Data collection and simple data processing using a PC
Bottom dead center values are accumulated as continuous data, and can be exported from the manufacture site using the bundled USB flash memory. The data in the flash memory are stored in CSV format, and thus can be processed in Excel. The data at the manufacture site can be edited in the office for the purpose of traceability.
Automatic Press Monitoring Device
Monitoring of the bottom dead center and press slug detection at the accuracy of 0.1μm!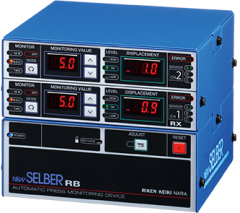 By using this device, one can avoid outflow of defective parts and prevent die damage caused by slug coming up during transfer press operations (automatic continuous press operations).

●First bound detection function
The automatic search function in first bound is provided.

●Analog output function
Stripper plate waveform and detection timing position can be confirmed.

●Detectable with high accuracy
Resolution: 0.1 mm (setting range: up to 99.9 mm)
A variety of proximity sensors for slug detection
The precision proximity sensors have been originally developed by RIKEN KEIKI NARA.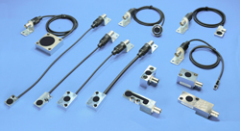 RIKEN KEIKI NARA has prepared sensors of various designs including thin type, round type and embedded type to fit any press machine and die attachment. They also have in store connection cables up to 15 m in length.
Corporate Profile
Corporate name

RIKEN KEIKI NARA Mfg.CO., LTD.

Address

49-1, Abe, Sakurai City, Nara, 633-0054, Japan

President

Tetsuya Matsumoto

Established

1972

Phone

+81-744-43-0051

Fax

+81-744-43-0056

Company URL

Capital

50,000,000 yen