KANSAI TOKUSYU KOSAKU-YU CO., LTD
MOBIO booth No. : North facility 2nd floor 100
KANSAI TOKUSYU KOSAKU-YU CO., LTD
Product line
Metalworking fluids
Industrial detergents
Industrial lubricants
Description of business
KTK Lubricants uses a trial and error approach to develop metalworking fluids that meet customers' needs, manufacture them in small lots, and sell them. They are aiming to create lubricant solutions that can bring out the maximum abilities of machines and tools, and to improve production efficiency and production quality.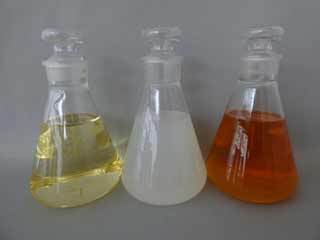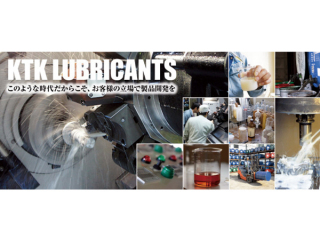 Products and Technologies
Metalworking will be improved by made-to-order lubricants!
Do you know about it?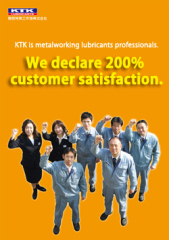 Efficiency is greatly improved by special metalworking fluid.
Even if the processing method is the same, a different lubricant solution is necessary for each of the used machine's rigidity, performance, and processing conditions.
KTK can develop and manufacture the appropriate types in small lots.

・For each processing content:
Machines, tools, processing conditions, etc.

・For each need:
Rust-proofing, roughness, degreasing, odors, increasing speed, difficult-to-cut materials, the Japanese Fire Service Act/ measures for the environment, etc.

・Disposal of used waste oil is treated by KTK as well.
"Non-hazardous material" cutting fluids under the Japanese Fire Service Act
CHEMICUT F-920 series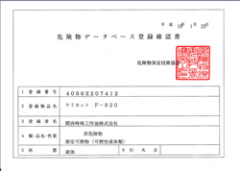 The CHEMICUT F-920 series consists of high flash point oil-based cutting fluids that are designated as "flammable liquids" according to the Japanese Fire Service Act. Because they are excluded from being subject to hazardous materials for tanks at storage facilities such as oil storehouses and at production facilities, there is leeway in the specified quantities under the Fire Service Act.
In addition, they do not contain PRTR designated chemical substances or chlorine-based extreme pressure agents, and they are products that match the spirit of ISO 14000s. Customers use them in processing, etc. in which water-solubilization is not possible, mainly major machine tool manufacturers' deep-hole processing for main axes and major heavy electric machinery manufacturers' big parts processing for power generation plants.
Hyper-lubricating synthetic soluble cutting oil
Super Cool WS-525R
Super Cool WS-525R is a new-era metalworking fluid that has lubricating ability that is greater than conventional emulsion-types, and the transparency and corrosion resistance of soluble types.
In particular, Super Cool WS-525R was developed for high-speed processing at stainless steel machining centers, and therefore the coolant sufficiently permeates to the blade edge, which was unattainable with emulsion types, and it is possible to bring out the advantages of cooling and lubrication in high-speed processing.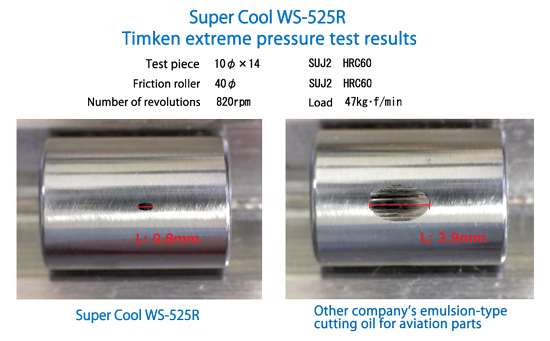 It is thought that the larger the traces of friction on a test piece, the more inferior the lubricating properties or the tool life.
KTK conducted the test 3 times and then use the average of 2 times of the approximate value.
Corporate Profile
Corporate name

KANSAI TOKUSYU KOSAKU-YU CO., LTD

Address

3-4-28, Higashi , Wakamatsu-cho, Tondabayashi City, Osaka, 584-0023, Japan

President

Toshiyuki Ryu

Established

1966

Phone

+81-721-24-2480

Fax

+81-721-23-2307

Company URL

Japanese (http://ktk-lub.com)

Meet the President (https://www.m-osaka.com/blog_en/2019/11/04/002289.html)

Capital

10,000,000 yen