MOBIO booth No. : North facility 1st floor 11
DAISO CO., LTD.
Product line
Dieboards for corrugated board and cardboard
Diecut consumables
Other types of cutting dies
Description of business
DAISO CO.,LTD., founded by a diecut operator, develops diecut consumables, die equipment, and even new diecutting methods as an expert of diecut. Since all work is carried out by professionals in-house, it can respond to a variety of requests from users on-site for both dieboards and consumables.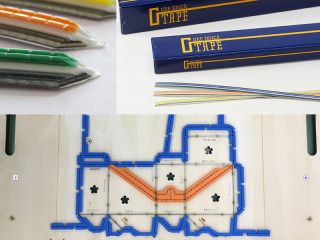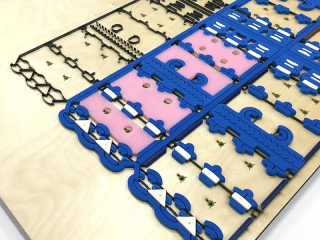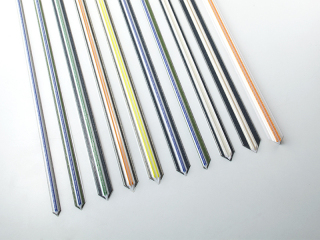 Products and Technologies
Diemaking for corrugated board and cardboard
Proven track record in diemaking for over 45 years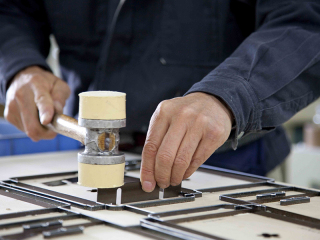 ●Support for everything needed for platen presses
There is a reason for DAISO's quality that improves the productivity of diecutting, stripping and blanking:
- The company's 45+ years of proven performance in diemaking
- A lineup of more than 100 types of original products
- CAD designers and quality control managers dedicated to producing precise drawings
- Individual adjustment of specifications and materials on-site according to the characteristics of diecutting machines
Dieboards of DAISO can improve working efficiency, support highly-accurate processing quality and safety.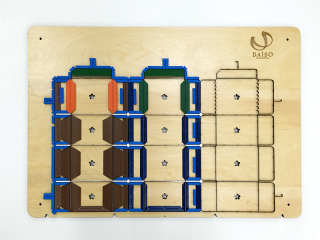 1) For corrugated board and cardboard
Dieboards have been created for every type of packages, from candy boxes to corrugated boxes for packing household electrical appliances.

2) For automotive parts
As materials for automobiles are becoming more diversified, DAISO is producing dieboards to diecut various materials, such as lining sponges and felt.

3) For flexible packaging
DAISO is producing a dieboard for a refill container and a spout container.
G-Tape, improved folding accuracy for packages
Development of overseas sales with in-house production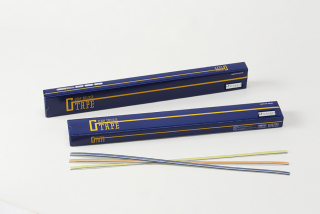 ●70% domestic market share
Accessories needed for diecutting of packages. "G-Tape" creasing matrix improves folding accuracy. DAISO handles a wide range of sizes, from standard products for corrugated board and cardboard to custom-made products.

This product can be easily installed with one touch. It has excellent durability, having clearing hundreds of thousands of diecutting tests and can usually be used 200,000 to 300,000 times, and up to 500,000 times in a row.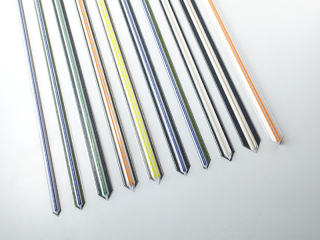 ●Various selection and recommendations for improvement

DAISO manufactures A-type for corrugated board and cardboard, and B-type for corrugated cardboard, depending on use. It also offers support for special sizes upon the customer's request.

If there are problems with matrix being used, DAISO can provide a total assessment of the setting of matrix, dieboard, and materials to be pressed, and offer recommendations for improvement.
Diecut accessories
Total proposal for all diecutting accessories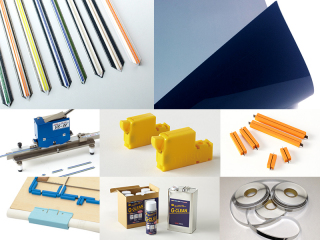 ●Continuous innovation

DAISO's history is filled with an accumulation of improvement and creation. From its efforts in R&D for diecut, DAISO has continued to identify the seeds for new ideas and deliver innovative diecut products to the world.

DAISO has acquired 18 patents to date and 10 new industrial designs (as of December 2015). Taking advantage of this technology, DAISO is now working on the manufacturing and sales of over 100 types of diecutting materials.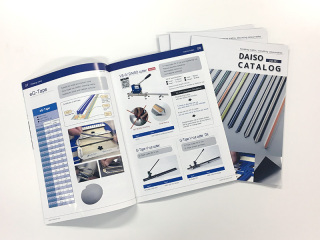 ●Comprehensive catalog of accessories and consumables

DAISO has published a comprehensive catalog of accessories since 2015 (updated irregularly).
It is working to improve customer satisfaction by providing what DAISO's customers want that cannot be covered by salespeople alone.
Corporate Profile
Corporate name

DAISO CO., LTD.

Address

Osaka, Japan, 10-10, Daito Cho, Daito City, Osaka, 574-0061, Japan

President

Masakazu Otsuka

Founded / Established

1971 / 1979

Phone

+81-72-875-2951

Fax

+81-72-873-5008

Company URL

Meet the President (https://www.m-osaka.com/blog_en/2017/08/17/001191.html)

Capital

36,000,000 yen

Awards received

Outstanding Performance Award: The best 100 of Kansai IT companies in 2012