MOBIO Tech Hall requests all visitors to prevent the spread of infection
Activities
2022/02/25
MOBIO Tech Hall requests all visitors to prevent the spread of infection
Let's all do what we can to the best of our ability to prevent the spread of COVID19 infection.
Note: Please refrain from visiting MOBIO if you have a fever or other infection symptoms.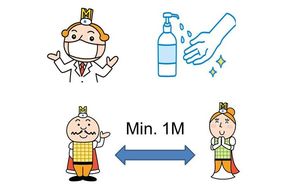 1) Practice cough etiquette and hand washing.
2) Disinfection of fingers and palms.
3) Avoid close-range conversations and keep your distance from others (at least 1M).



When visiting MOBIO Tech Hall, please drop by a reception desk and:
- Measure your temperature with a non-contact thermometer
- Register OSAKA COVID-19 TRACING SYSTEM
MOBIO Tech Hall requests cooperation of all visitors to protect yourselves and your loved ones.