Event :(Mar. 24) Reporting the study results to create a website leading to orders / MOBIO Cafe Meeting
Activities
2022/02/18
Event :(Mar. 24) Reporting the study results to create a website leading to orders / MOBIO Cafe Meeting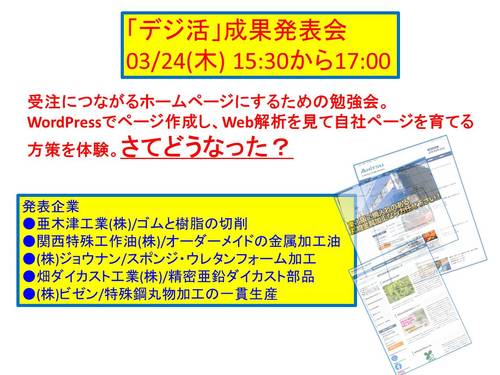 ◆◇ Event information ◆◇
MOBIO Cafe Meeting is a Cross Industry Meetup. The exhibitors explain technologies in the MOBIO Tech Hall and reply to any questions in Japanese.
Through an exclusive session, MOBIO Tech Hall exhibitiors studied ways to create/update websites that lead to orders. Then look and see their results.
Date : March 24 (Thr) PM 3:30 - PM 5:00
Admission : Free
Contact Information : 1-4-17, Aramoto Kita, Higashi Osaka City, Osaka, 577-0011 Japan
Tel. +81-6-6748-1011
KANSAI TOKUSYU KOSAKU-YU CO., LTD.